Last updated on September 19th, 2023 at 06:38 pm
All About Eve is a 1950 classic film that speaks about the lives of the people involved in Broadway theatre, especially Eve Harrington, a play enthusiast and strong admirer of Margo Channing, a senior actress and wife of a director, Bill Richards. Eve Harrington, who idolised Margo entered her life as a personal help and assistant and gradually started jeopardising her career by manipulatively stealing her rule as Cora in a play.
Directed by Joseph L. Mankiewicz, it is one of the few movies that has stood the test of time and is still considered a masterpiece by critics and movie enthusiasts alike.
Starring Bette Davis (as Margo Channing), Anne Baxter (as Eve Harrington), George Sander (as Addison DeWitt) and Celeste Holm (as Karen Richards), All About Eve 1950 is one of 100 America's Greatest Movies according to American Film Institute, the Library of Congress (loc) included it in its Complete National Film Registry Listing in 1990, and one of the 101 best films that I have been reviewing. It is a list of great films that contain educational or entertaining values.
The title is quite justified, for this is indeed the story of how Eve managed to win the most prestigious Sarah Siddons award for the most distinguished theatrical performance of the year by manipulations and trickery.
However, she also had to go through the same ordeal that she had had by idolising Margo Channing. Just as she came home happy after winning the prestigious award, she realised that a beautiful girl sneaked into her apartment and expressed to be at her disposal as a protégé. Consequence.
Eve is portrayed as a starstruck fan who admires Margo and wants to be like her. Posed as an innocent, big fan of Margo she claimed to have watched all of the acts by Margo Channing, and took advantage of Karen's friendship with Margo Channing in order to go close to her. But only Addison DeWitt, the theatre critic understood the real motive of Eve, who even dreamed to steal her benefactor Karen's husband.
On the other hand, Margo always doubted that her husband Bill is in love with that innocent junior girl who was full of curiosity about theatre. Margo's insecurity was mostly based on the fact that she is older than him while she was 40 and Bill was 32. She was apprehended in the traditional concept of marriage that men should be older than women.
Eve uses her charm and manipulative skills to get close to Margo and her circle of friends. She begins to ingratiate herself with the group, using flattery and deceit to get ahead. As she rises in the theatre world, she becomes increasingly ruthless and ambitious, stopping at nothing to achieve her goals. She studied everything, the way she talks, walks, eats and behaves.
Storyline
Just turned 40, the Broadway star Margo Channing's best friend Karen Richards, wife of playwright Llyod Richards, brought in her dressing room a stage-struck girl, Eve Harrington who claimed to have watched all of Margo's plays, including her latest, Aged in Wood.
Eve tells the group gathered in Margo's dressing room – Karen, Lloyd, and Margo's maid Birdie Coonan (played by Thelma Ritter) – that she followed Margo's last theatrical tour to New York City after seeing her perform in San Francisco.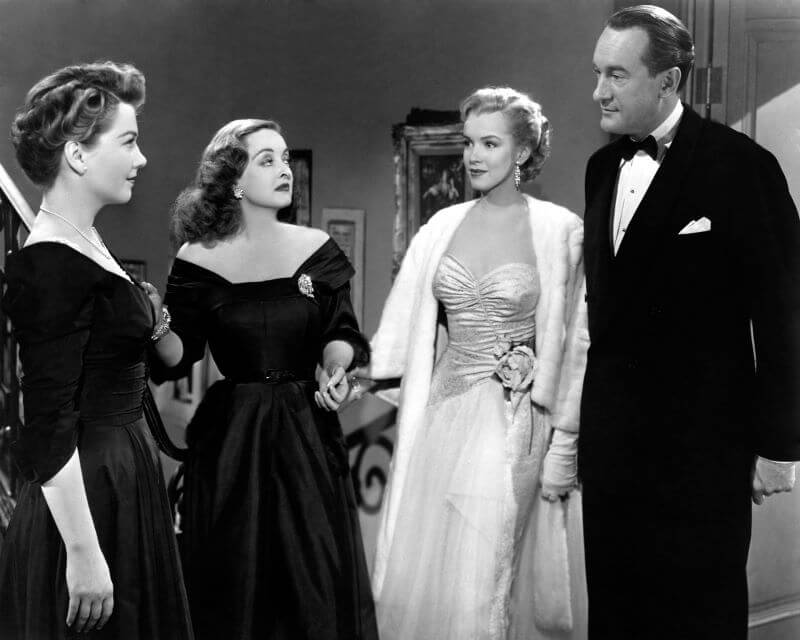 She told them a cooked-up story about her growing up in Wisconsin and told them that her husband Eddie died in the South Pacific during WWII. Moved by her tragedy Margo befriended Eve, takes her into her home and hires her as her assistant, upsetting Birdie.
Eve started studying Margo like a book. The way she talks, dresses, eats and walks. Soon, Eve became a trusted assistant of Margo and a good friend to her would-be husband, Bill Sampson who shared all the nitty-gritty of plays. Upsetting Margo, Eve even placed a long-distance phone call at midnight for Margo when Bill was in Hollywood when it was his birthday which Margo forgot.
Margo became doubtful of Eve's activities, mostly when she found Bill talking to Eve in the lobby during his welcome home and birthday party that was attended by Karen, Llyod, play critic Addison DeWitt, Casswell (played by Marylin Monroe), producer Max Fabian (Played by Gregory Ratoff) and others. Margo started to fear losing Bill to Eve, a girl with so many qualities and the fact that he is younger 8 years than herself.
That night Margo asks her producer Max Fabian to employ Eve at his office, but instead, Eve managed to become Margo's understudy ((in the theatre, an 'understudy' is a person who learns another's role in a play in order to be able to act at short notice in their absence) without Margo's knowledge by the help of Karen, Margo's best friend.
Eve managed Karen to tell her husband, Llyod (played by Hugh Marlowe) to replace Margo's current understudy who was to give birth. Making the situation worse, Margo learnt that an auction to replace an actress for the play had already been done by her understudy, Eve, which Margo was supposed to do before she reached the theatre.
As Margo's irritation and detestation grew towards Eve, Karen feels sorry for her. In hopes of teaching a lesson to Margo, Karen arranged for a tour of the country the next day so that Margo miss a performance scheduled that evening and Eve may perform in her place. Margo, along with Karen and Llyod got stuck in the middle of the road as the car ran out of fuel, which Karen supposedly prepared with Lloyd's knowledge.
That evening, Eve invites the city's theatre critics to attend the performance – including the acerbic Addison DeWitt. Later that night, Eve tries to seduce Bill but he rejects her, which Addison secretively witnessed before meeting her. Infuriated at Bill's rejection, when she tried to express her anger in her dressing room, DeWitt intercepted.
He appreciated her performance and talked about how she can blow her horn about the performance for which he can be a powerful instrument. He performance interviewed her for a column which came out as a piece that harshly criticized Margo for resisting younger talent.
After her first performance in the absence of Margo as an understudy, Eve uses DeWitt to blow her horn who wrote a column praising her performance. Margo became angry to see the circulation of all of the newspapers in the town. Karen objected as her husband was finally willing to offer Eve the part of Mago of Cora in his next play which he left to Karen's approval.
That night when the four got together in a hotel, Bill Samson announced their marriage to Margo. Eve sent a note to Karen to meet with her in the Lady's room. Eve told her she has been reprimanded for her actions and told her to recommend her to Bill for the part of Cora in his next play, a part which was written for Margo.
But when Karen refused to agree, Eve manipulated and revealed to her that Addison found out how Margo was made to miss the performance which as an understudy Eve was privileged to perform.
Eve Told her that if she did not tell and convince her husband about the part Addison will disclose that Margo missed that because of her best friend Karen who was responsible for the car running out of oil in the middle of the tour. It would have been a big scandal for that matter.
Addison, who wanted Eve to play the part, will not disclose Karen's disloyalty to Margo as a best friend, an exchange of favour. But before anything she said at the table, Margo declared that she is not going to play Cora, leaving Karen relieved. She thought she is too old for that role and due to the fact that she is going to be married soon. As a married woman, she wants to focus more on life than play. The declaration threw Karen into a burst of good laughter.
Though Llyod was Okay with Even in the play, Bill refused to direct but was won over by the insistence of Llyod and Max, the Producer. The night before the act of Cora, Eve revealed to Addison her intention to marry Llyod so she can go as far as possible.
Addison said that Lloyd may leave Karen but not for her and she can't marry anyone because he will not permit it. When he said after that night she belongs to him, she laughed it away which prompted Addison to slap her in the face.
To her surprise, he disclosed to her that her real is Gertrude Slescynski, not Eve Harrington who worked in a brewery, but left the job when her boss's wife found out about their affairs. She was paid to leave the job after which she came to New York.
She said she had to lie to earn the sympathy of Margo while after all, she tried to steal Bill from her by seducing him. Addison left after saying that as improbable, insatiable and ambitious like her with a contempt for humanity they deserve each other.
She received the Sara Sidon award for her performance as Cora making her way to Hollywood easier. All About Eve thus became a film of loyalty, disloyally, trust and distrust where a friend stabs another friend for helping a stranger. That night, instead of going to the party given by the producer she headed home where she encountered a female intruder inside her house who introduced herself as Phoebe, a self-invented name.
I detest cheap sentimen.

Margo Channing, All About Eve 1950
She revealed that she sneaked into the room during the maid was cleaning, and was a member Eve Harrington Club of Erasmus Hall in Brooklyn. She came here to report on her about how she lives, what kind of clothes she wears, what kind of perfume and books she wears and reads, the same thing Eve did to Margo.
Addison was surprised to see Phoebe open the door for him as he came to return the award that she left in the taxi. He asked if she wants an award like that, and she said yes and was told to ask Eve how to get one like that. Closing the door Phoebe was seen to adore the award and wearing Eve's party dress she posed in front of a three-paned mirror with the award in hand lustfully.
What to Consider
Nominated for 14 Academy Awards and winning 6 including Best Picture, All About Eve 1950 touches on several themes of ambition, jealousy and betrayal of trust that are still relevant today. The most prominent theme is ambition and the lengths to which people will go to achieve success. Eve's character represents the dark side of ambition, showing how it can lead to deceit and manipulation, while Margo's character shows of her struggling to come to terms with the fact that she is no longer the young and talented she once was.
It is a cautionary tale that warns against the dangers of unchecked ambition and the price of success. The film also shows the fear of an ageing actress. The fear of becoming outdated, irrelevant, losing applause, and adoration; fear of losing her boyfriend to a suddenly appeared talented girl, the girl who dreamt to be praised, appreciated and the centre of focus. This is a theme that is still relevant today, as many people in the entertainment industry face similar challenges.
Margo's feared that Bill will leave her because of her age. Though Karen assured that being eight years old than her would-be husband is not a big deal, she replied by saying "Those years stretch as the years go on. I've seen it happen too often". The age did not matter to Bill who loved her beyond everything else and was ready to marry her any moment to prove that.
But Margo objected that she did not want him to marry her just to prove a point. This fear of insecurity and being unloved kept apprehending her until the moment Bill finally announced their marriage which caused her to quit rehearsal.
She also felt like her season is over like Chinese women are subjected as leftover after thirty years of their age if not married. Though did not matter to them, she feared social stigma. Moreover, Margo poignantly described how hard it is for women to be in professions and how difficult for them to withhold womanhood at the same time. On her tour with Karen, she expressed the following-
"It's funny, a woman's career. The things you drop on your way up so you can move faster. You forget you'll need them again when you get back to being a woman. That's one career all females have in common, whether we like it or not. Being a woman. Sooner or later, we've got to work at it. No matter how many other careers we've had or wanted.
And in the last analysis, nothing's any good unless you can look up to just before dinner or turn around in bed and there he is. Without that, you're not a woman. You're something with a French provincial office or a book full of clippings. But you're not a woman. Slow curtain. The end".
Another theme that is explored in the film is the idea of the female experience on Broadway. All About Eve is a film that puts women front and centre, highlighting their struggles and triumphs in a male-dominated industry where male playwrights and directors can anytime change their minds about actresses. It is a film that celebrates the power and resilience of women and their ability to overcome adversity.
It tells us about how cravings for name and fame make people do unexpected things. Betrayal and distrust are considered okay in climbing the ladder of success and fame. People like Addison DeWitt think it is alright to blow the horn of the aspiring stars by themselves and a paragraph is enough to change people's opinions and make them accepted.
The critics, DeWitt in the current case, are ready to do so as long as the stars behave as per their will, and willing to 'belong to me', as DeWitt revealed to Eve after his writing about Eve in the city's newspaper.
According to Addison DeWitt, "It is just as false not to blow your horn at all as it is to blow it too loudly. We come into this world with our little egos equipped with individual horns. If we don't blow them, who else will?" He understood justly that Eve will be ready to do whatever he offers to her because he is the SOMEBODY for Eve.
However, All About Eve 1950 is one of the most complicated films I came across with a high standard of English filled with phrasal verbs and idioms. Although the film is considered to be all about Eve, about how she manipulated good-hearted people to fulfil her Hollywood dream, I find the character of DeWitt very fascinating. With a modulated voice he takes us through the narrow alleys of the film. Also fascinating is the fact that because of Eve, Margo began to realise her age, that men, especially her boyfriend, do not age.
All About Eve 1950 has had a significant impact on cinema, inspiring many films that followed it. It is considered one of the greatest films ever made, and its influence can be seen in the work of directors such as Quentin Tarantino and Martin Scorsese. The film has also had a cultural impact, with its iconic quotes and memorable scenes still being referenced
The legacy of All About Eve is far-reaching, with its impact being felt in various aspects of popular culture. The film has inspired countless parodies, adaptations, and homages over the years. One of the most notable examples of this is the hit television series, The Golden Girls. The show's creators have cited All About Eve as a major influence on the show's depiction of strong, complex female characters.
The film has also inspired several other movies, including The Anniversary Party (2001) and The Bitter Tears of Petra von Kant (1972). The film's influence can be seen in the work of contemporary filmmakers, such as Noah Baumbach and Wes Anderson.
Conclusion
All About Eve 1950 is a masterpiece of cinema history that has stood the test of time. It is a film that continues to captivate audiences with its persuasive story, remarkable characters, and thought-provoking themes. Its exploration of ambition, gender, and ageism is as relevant today as it was in 1950. The film's legacy can be seen in the work of contemporary filmmakers and in popular culture.
Striking performances, rich dialogue in high-standard English, unpredictable storyline and DeWitt's mouthful dialogues make All About Eve 1950 indeed a great film that is bound to make you come back more than one time. If you have not seen this classic film, we highly recommend that you do so.