Last updated on September 19th, 2023 at 06:44 pm
American Beauty is a 1999 American drama film directed by Sam Mendes and written by Alan Ball. The film conveys the story of a suburban father named Lester Burnham who fell in love with his daughter's best friend, Angela and makes a few of changes to his life in an attempt to become a better-looking and acceptable person. The film is an ironic commentary on American suburbia, depicting the superficiality and emptiness of suburban life where people are in a constant run in search of happiness and success.
Starring Kevin Spacey as Lester Burnham, Annette Bening as Carolyn, Thora Birch as Jane, Mena Suvari as Angela and others, American Beauty is a daunting portrayal of the American Dream, the expectation that success is measured by material wealth and status, that renders lack of authenticity in suburban life.
Lester Burnham, the protagonist, is a man who is stuck in a job with no career prospects and an unhappy marriage, but his infatuation with Angela represents his desire for a more fulfilling life. Carolyn, Lester's wife, is unhappy with her own lack of passion and feels also unfulfilled. Jane, Lester's daughter, is resentful of her father's lack of involvement in her life.
In the journey of desperations, Lester fell in love with Angela, his daughter's friend, his daughter falls in love with a psychopathic drug dealer boy, Ricky, Laster's wife was having an affair with an unhappy real-estate agent, erroneously, Ricky's father grew a homosexual infatuation toward Lester, all in search of happiness.
However, American Beauty is one of the most acclaimed and successful films in Hollywood. In March 2000 it won five Academy Awards making it one of the Best Pictures and was given six awards by the British Academy of Film as one of the Best Films with a 356 million dollars in Box Office hit. It is one 101 best movies I have been reviewing.
Storyline: American Beauty
The 42 years old Lester Burnham lives with his unhappily married wife Carolyn and their 16 years old insecure daughter, Jane. Carolyn is a real estate broker and Lester is an advertising executive. Lester is unhappy about his job Carolyn is unhappy about his unemployment and Jane is unhappy about both of them as parents.
Moved in the next door was their neighbour Frank Fittz, a retired US marine colonel, with his teenage son Rocky and his neat catatonic wife Barbara. Ricky sold cannabis using his part-time catering job, for which his father had already sent him to a psychiatric hospital and to a military academy because of his drug abuse, and studies with Jane.
Lester became attracted to jane's friend Angela during a dance routine at a basketball game. Deprived of sex, Lester immediately started fantasising about her sexually in which she was seen red rose petals were seen to resemble their fantasies. Carolyn got involved in an affair with her real estate rival Buddy Kane, whose wife left him because of his obsession with success, Jane fell in love with Ricky.
After losing his job and blackmailing his supervisor into giving him 60 thousand dollars severance package, Lester began working at a drive-through restaurant, where he caught Carolyn with Buddy while placing an order. Lest reacted with a sense of satisfaction.
After overhearing Angela's teasing of Jane, wherein she implied that she would be interested in having sex with him if he improved his physique, Lester sets out to achieve his fitness goals. He purchases his dream car, a 1970 Pontiac Firebird, and starts working out regularly. Additionally, he starts smoking marijuana supplied by Ricky and begins to flirt with Angela. However, the once close friendship between Angela and Jane begins to fade as Jane starts a relationship with Ricky, whom Angela disliked.
Frank, who is suspicious of Lester and Ricky's companionship, discovers from Ricky's video footage that Ricky had filmed by chance of Lester lifting weights in the nude and erroneously assumes that they are sexually involved. He then bitterly accused Ricky of engaging in prostitution, which Ricky falsely confessed, to hide his dealings of cannabis and prodding his father into kicking him out.
After getting caught, Carolyn sat in distress in her car, retrieving a firearm from the glove compartment. At home, Jane is embroiled in an argument with Angela over her flirting with Lester when Ricky interrupts to request Jane's company for a trip to New York City. He insults Angela, calling her ugly, boring and 'ordinary'.
One day amid a downpour, Frank approached Lester cautiously, sobbed and tearfully embraced him. But Frank tried to kiss him as he began comforting him. Lester gently rebuffed his advances and said that he misunderstood him, and Frank walked out into the rain.
Lester discovered later that evening that Angela sitting alone in the dark. He comforts her, saying that she is stunning and far from ordinary. He inquired about her desires, and she admits to not knowing what she wants. Angela then inquired about Lester's desires, and he reveals that he has always wanted her. He leads her to the couch and begins to undress her, but Angela confesses that she is a virgin.
Lester is stunned to realize that her apparent sexual experience was a guise for her innocence and he cannot continue. They commiserate over their frustrations. Lester held and smiled at a family photograph when an unidentified figure shot him in the back of the head at close range.
Ricky and Jane discover Lester's lifeless body on the table. Carolyn is in her closet crying inconsolably, discarding her firearm and sobbing as she embraces Lester's clothes. Frank, whose hands are covered in blood, returns home. A firearm was seen missing from his collection. as a dead man Lester's voiceover concludes his meaningful journey throughout his life. He states that, despite his demise, he is content that there is still so much beauty in the world.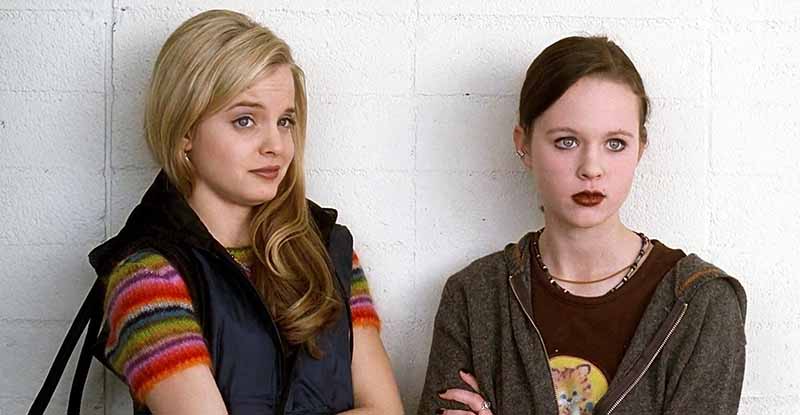 What to Consider
American Beauty sets its drama of individual emancipation in suburbia somewhere in the heartland of Americana reverberating the message that life tends to go stale within the confines of picket-fenced houses, a consumerist, career-driven version of the American Dream. A country where people think to be able to afford comfort, prosperity, and self-contended community, and where also lie discontent, lies and nightmares stir beneath the soft velvety appearance. the film invites us to 'look closer', and go beneath the surface.
Indeed, Lester Burnham provides voice-over narration from a post-mortem perspective to review what he has accomplished in his life and questions whether his earthly existence has been imbued with any real sense of spiritual value, happiness or enlightenment.
The film begins to unfold as Lester confides in us mischievously that it's never too late to get it back. American Beauty is about what happens as Lester 'gets it back' and the impact this has on the people around him. It shows a highly competitive and soul-less culture, where people are appraised in terms of relative success, the size of their homes and bank accounts and how proficient they are at competing in an increasingly ruthless and insecure employment market.
To some researchers, it is a dark comedy, that also functions as an adroit satire on the values and preoccupations of contemporary western culture, encapsulated in Carolyn's maxim, inspired by her real-estate rival Buddy, which we witnessed her chanting a number of times during the film, that "In order to be successful, one must project an image of success at all times".
American Beauty, won five Oscars making it one of the Best Pictures. The film has received more than 3,000 reviews on IMDB and which has been lauded, on secular and religious grounds, by many film critics and journalists as one of the most insightful and sophisticated films to have come out of Hollywood in recent years. For its cinematic style and satire of American bourgeois life, the film won the heart of millions of viewers.
The film has explored some of the difficulties of adolescence, separation, denial of life, repression of sexuality, the turning away from the truth of ageing. As a result, Lester did not mourn the destruction he has shaped; Carolyn did not go beyond her mantra of 'me-centre' 'I refuse to be a victim'; Ricky did not deal with the chasm he was in, between false passive compliance to his oppressive father and active ability; Jane did allow herself to feel her love for her parents despite their well-intended behaviour towards her. Colonel Frank could not bear to face his homosexuality or to hold the humiliation of rejection by Lester.
American Beauty pictures the idyllic picture of Americana, a place where every house looked the same and every yard was unspoiled with perfectly trimmed lawns and white picket fences, and their wealthy owners. But underneath the seeming perfection, there was a sense of restlessness, desperation for recognition, worship, cravings for attention and lacking the genuineness of externalities.
Such was Lester Burnham, who had everything he was supposed to expect – a high-paying job, a beautiful wife, and a lovely home. Yet, he was bored and unfulfilled, trapped in a life that felt hollow and meaningless.
As the film unfolds, we cannot help but be fascinated by Lester's world, witnessing his descent into rebellion and self-discovery and awakening from the delusion of success. We watched as he quit his job, bought a sports car, and began working out, determined to break free from the monotony of his dull existence. Though his was a struggle to spice his life up, his wife's was the obsession with appearance, and maintaining the perfection of life at the cost of human values, while his daughter's was with her insecurity and self-identity.
As Lester embarked on his journey of self-discovery, we saw him transform into a man who was brazenly himself. He indulged in his passions, smoked weed, and pursued a romantic relationship with his daughter's friend, Angela. It was a bold move, one that challenged societal norms and conventions, but it was also a necessary one. Lester had to break free from the chains that had held him down for so long, and he did so with courage and determination that was inspiring to watch.
Beneath the surface of a normal and sugar-coated and conspicuous lifestyle lies all ugliness and moral decadence of human life. American Beauty perfectly portrays that. It reveals how people are consumed by the modern concept of the beauty of life and success.
The beauty of people and life is denied in the materialistic society while marriages are bereft of love, just for show, parenthood is bankrupted and devoid of emotional connections, discipline became oppression, beauty turned out to be the mere opinion of unthinking minds, sex is the sole source of pleasure, and the money central to entire human affairs.
Let's just take the characters of American Beauty into consideration. The main protagonist of the film, Lester Burnham, an advertisement executive, made the whole thing changed as a careless parent when he tried to spice his dull marriage up by falling in love with his daughter's friend and classmate, Angela who had entertained a strong desire to be extraordinary by being the focus of attention and did not hesitate to express her attraction to his daughterly flashily.
Lester tried to rescue his sex-deprived life. His materialist-minded wife, Carolyne, was mostly responsible for that. When finally, he fell in love with Angela and found out that the feeling was mutual, he was ready to go the extra mile. He thought he was in a coma for 20 of marriage, and finally realised that he still sustains the ability to surprise himself physically.
Lester began working out to become Angela's ideal of men with muscles, started taking psychotic drugs, and lost interest in his family. But his wife was already sleeping with Buddy, a real estate agent whom she idealised as inspiration for success to whom, "to be successful you always have to project the image of success all the time", success mantra. Buddy's wife left him because he was obsessed with his career. To Buddy, when he is stressed firing a gun makes him feel powerful like nothing.
When caught cheating Carolyne was so stressed that she fire her husband, which the "me-centred" Carolyne did not get the opportunity of. To Carolyne things, like the sofa, were more important than living or relationships.
Their daughter Jane became so detached from her parenthood that it did not leave her any rule model to grow with a sane mind. When she finally started sleeping Ricky, a boy from the next door and her schoolmate, whose oppressive military father, Colonel Frank, whose wife was in a depressed fugue state most of the time, she expressed that she wished she had a father who is a role model not a geek-boy who sprays shorts at her girlfriend.
She even wished her psychotic boyfriend kill him. She was even ready to pay him with the money she has been saving for her breast enlargement. She wished that she was as near important to him as Angela.
Ricky, who finds beauty in things around and was obsessed with Jane and filming natural and human incidents in the neighbourhood, was kicked out of his father's house because his father thought his only son has been influenced by Lester into homosexual activity. His abhorrence towards homosexuality turned to predilection later when he approached Lester thinking him a potential partner. But was enraged when Lester turned down his attempt to kiss him.
Ricky's father shot Lester at his home for either refusing him let kiss or the assumption that he influenced his son into homosexuality when Carolyne was on her way home to kill his as well. Lester created a domino effect the lives of everyone around him. But who to blame him and what for?
When Lester finally got a chance to be intimate with Angela and when heard that she was still a virgin he got back. Throughout the film, she was thought to sleeping with everybody who showed interest in her. The whole time all she expected was not be ordinary, "there's nothing worse in life than being ordinary", she told Lester. She thought she was above ordinary and an epitome of perfection. However, when she asked him, "how are you" as he wanted to know from her how she was doing, he replied that after a long time, someone has asked him that, meaning to indicate that these superficially conspicuous people have everything except emotional attachment.
Another striking feature of American Beauty is that the people of lower levels of self-image and a higher level of insecurity use people of comparatively less good-looking or less advantageous to promote their narcissistic behaviour or feel good. I think that's why comparatively more attractive, smart, intelligent and rich people feel good being around less attractive, smart, intelligent and less advantaged people. They promote their look, generosity and talent at cost of pseudo-humbleness or goodness.
Ricky, for instance, exposed to Angela that she used her friendship with Jane to feel better about herself. The reason why comparatively less attractive, talented and smart but self-promoting, narcissistic, domineering people feel insecure around more attractive, talented, smart and generous people, and take them as potential competitors.
Conclusion
American Beauty was a film that challenged us to look beyond the surface, to dig deeper into the complexities of human existence. It was a film that celebrated the beauty of imperfection, of messiness, of life itself. And in doing so, it left a permanent mark on the world of cinema, a testament to the power of art to inspire, provoke, and move us. The film asked us to question the values that society holds dear – materialism, conformity, and image – and to consider what really matters in life – love, authenticity, and connection.
It was a film that made us laugh, and reflect on our own lives, reminding us that true beauty lies not in what we have, but in who we are. Yet, even in the face of this darkness, there was a sense of hope. As Lester lay dying, his last thoughts were of the beauty of the world around him. He marvelled at the simple pleasure of a plastic bag blowing in the wind, and in that moment, we were reminded that even in death, there is beauty to be found. The film continues to captivate audiences with its stunning cinematography, intricate plotline, and unforgettable characters.