Before Sunrise, Before Sunset and Before Midnight of Philosophical Pursuit
Last updated on September 19th, 2023 at 10:15 pm
Before Sunrise is the first instalment of the Before trilogy by Richard Linklater. It is a story about an American traveller, Jesse Wallace, who was travelling by Eurail from Madrid to Vienna, and a French girl, Céline, returning from Budapest to Paris by the same train on June 16, 1994.
By chance, Jesse and Céline met while she had to change her seat next to a quarrelling German couple to sit across from Jesse. Their accidental meeting eventually flourished into a romantic relationship over the night. They left Vienna before sunrise promising that they will meet up again after six months on December 16, 1995.
Directed by Richard Linklater and starred by Ethan Hawke (as Jesse) and Julie Delpy the Before trilogy spanned 20 years. It is Richard Linklater's much-celebrated trilogy. Not only do these films present storylines and dilemmas that invite philosophical discussion, but the philosophical discussion itself is at the very heart of the trilogy. Critics analysed its neo-realism characteristics in the trilogy. It is one of the 101 best films on my watch list.
Before Sunrise
Disturbed by the German middle-aged couple's fight, Céline chose to sit across Jesse's seat. Jesse was reading All I Need is Love by Klaus Kinski and Céline, a collection of stories by Georges Bataille.  Céline got to know that Jesse is traveling to the USA.
Through their free-flowing conversation, they got to know each other. Céline said she was going back to Paris after a visit to her grandmother in Budapest. She learns that he will have to get off the train in Vianna and wait for the Austrian airline to the USA the next morning at 9:30 am.
However, when the train reached Vienna, Jesse lured Céline off the train in Vienna saying that he wanted to tell her about her future husband and their future relationship. He said he want to continue their conversation provided that she got off the train and accompanied him for the night.
Jesse explains that her future self needs to travel back in time to explore the romantic possibilities she did not try. He said she can leave anytime if does not like to be with him. Céline agreed and got off the train. They ploughed through the city of Vienna while having wonderful conversations.
Jesse's flight was the next morning but did not have enough money for a hotel room. So, they decided to spend the night getting around the city. They made use of the time in the best possible way by visiting some beautiful places including the cemetery of 'Nameless' where people who fell into the Danube River washed up and were buried unidentified. In the meantime, they came across a street poet who offered them to write a poem on their choice-word.
They arbitrarily chose the word 'milkshake' with which he wrote 'Delusion Angel'. And while touring the city, the duo exchanged many scattered thoughts about life, love, relationship, philosophy and human existence.
In a bar, while playing pinball, Céline tells Jesse that her last boyfriend broke up with her six months ago, claiming that she "loved him too much" and she and the relationship is "blocking his artistic expression." Jesse also confesses that he had initially come to Europe to spend time with his girlfriend who was studying in Madrid, but they broke up soon after he was there. He found a cheap flight home, via Vienna, but it did not leave for two weeks so he bought a Eurail pass and travelled around Europe.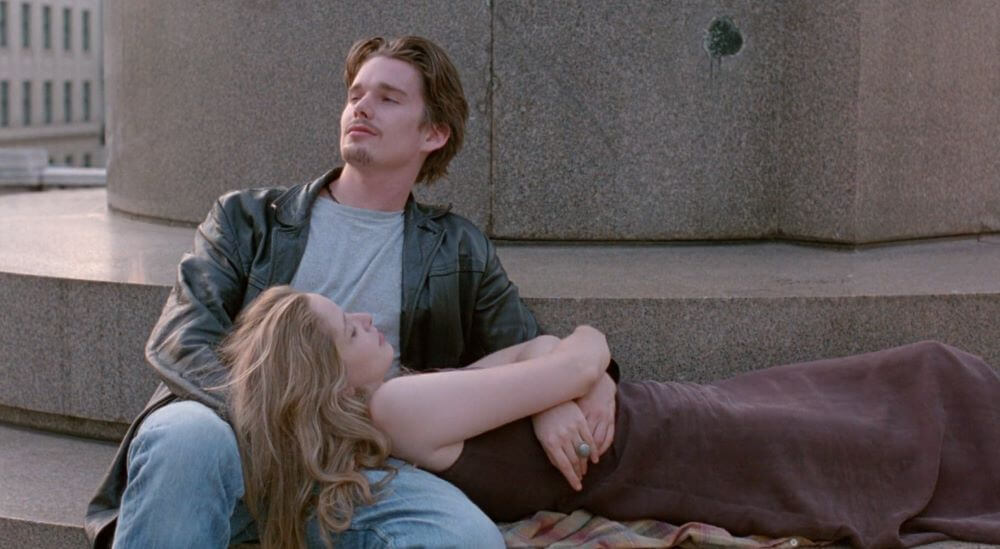 Later, on the Ferris wheel, with the view of the Danube and the sunset, Céline initiates their first kiss with Jesse and shared physical intimacy in Prater Park that night. In café in a fake phone conversation with their friends, Céline revealed that she was ready to get off the train with him before he convinced her to, while Jesse confessed that his cheaper flight to the USA is in fact not cheap at all because of her.
As they were not sure if they will be able to meet again or not, they decided to make of the best of their time together. I happened to have found their conversation very intriguing. Even though they were not sure about what the next morning would bring for them.
By this stage, it is clear that they have a deep affection for each other. By the morning, they sat on the steps of the Albertina Museum, pondering about how dreamlike their time together has been. There Jesse recited W.H. Auden's 'As I walked out one evening'. When the time for them to depart arrived, Jesse to the USA and Céline to Paris, they headed to the train station.
But instead of having any contact with each other, they decided to meet on the same platform after six months, on December 16, 1994. Whether they met or not we can only know from another film of the Before Trilogy, Before Sunset.
Before Sunset
After nine years of their first meeting and promised plan to re-meet on December 16, 1994, Céline discovers Jesse in Paris in a book store, Shakespeare and Company, during the book signing. Jesse was on his book tour in Paris while Céline tracked him down after being informed by the newspaper.
He became the best-selling author of This Time. He wrote the novel idealising their first encounter on Eurail on their way to Vienna and the subsequent failure of their meeting. The reporters asked him if they get together in real life. Jesse Wallace's flight to the USA was scheduled for 7:30 pm that evening.
Jesse was surprised to see her and know that she had a boyfriend. However, she apologised to him that she could not make it to meet with him because of her grandmother's death. To her surprise, Jesse also did not show up in Vienna, but on her insistence, he admits that he did show up.
Soon, their conversation turned to their present and past lives, politics and works while walking the streets in Paris. Céline was informed that Jesse got married in the meantime and has a son, Hank, while she says that she became an environmental activist and is in a relationship.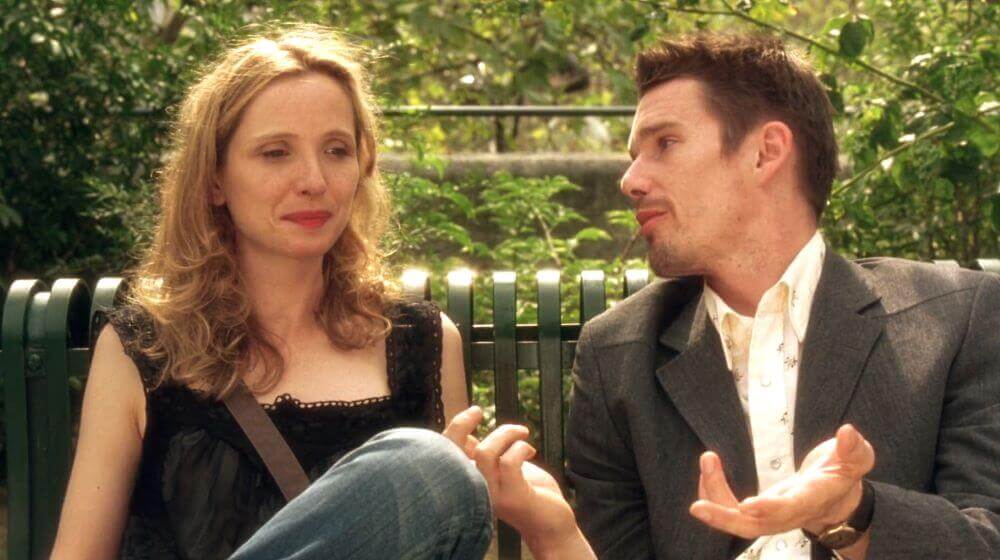 As they expressed their dissatisfaction about their lives, they felt attracted to each other. They ended up in her residence where she plays Just in Time by Nina Simone. Regardless of her insistence that he might miss his flight, he persuaded Céline all the to her place. The films end by revealing that Jesse stayed back in Paris and missed his flight.
Nonetheless, I found the conversation in Before Sunset between Céline and Jesse more intriguing and riveting. The way they expressed their dissatisfaction with life, living and prevailing cultural norms regarding pleasure and married life are unavoidable human realities.
Before Midnight
In Before Midnight, we discover that Jesse and Céline have been married for 9 years and have twin daughters of six. We see the couple's relational strain began already. Like the way they saw the middle-aged German couple grow intolerant towards each other, Jesse and Céline too were experiencing the same problem.
Jesse and Céline saw his son Hank, 14, off at the Greek airport after a holiday with his father in the southern Peneplanes peninsula. On their way back in the car Jesse looked sad because he cannot be with Hank in his formative years in Chicago as he started to live in Paris since their marriage.
Jesse's idea of moving his family to Chicago got backfired when Céline realised it and forcefully declined. She wanted to live in Paris where their daughters would grow up with the Parisian language and culture. Moreover, she has been attached to Paris because of her profession and her parents.
They were having a mild argument on their way to Southern Peloponnese about how she was singlehandedly taking care of the daughters while he was always on writer's retreat, book tours, and about not moving to Chicago.
From the discussion with their Greek friends at Patrick's mansion in southern Peloponnese, we get to know that Jesse has written another book about their last nine years of living together, That Time. But Jesse also laments on the failure of his third book Temporary Cast Members of a Long Running But Little Seen Production of a Play Called Fleeting" because of its cumbersome title.
At supper with their hosts at Patrick's mansion, they discussed about love, romance, Jesse's book, how they met, femininity and masculinity, how men always think about their genitals, and so on. Their friend reserved and paid for a hotel room for the couple.
While walking to the hotel, Jesse and Céline reflected on their first meeting in Vienna in 94. Céline asked Jesse if he would still find her attractive if they had met each other at the present moment. She wanted to know if he would find a middle-aged woman like her attractive and would ask her to get off the train as he did in Vienna.
However, Céline considered his indirect 'yes' answer below the bar of passing the test, while Jesse considered it was a theoretical question and he was set to fail.
Jesse reversed the question if she would get off the train even if he asked her to get off the train to be with him. She categorically said that she would not because she did not want to be with a 41-year-old man.
When Céline heard that Jesse's grandparents had been married for 76 years, she asked him if he can put up with her for another 56 years, and asked him if there is anything that he might want her to change. He answered the question by saying that if he wanted to change one thing, it would be her attempts to change him.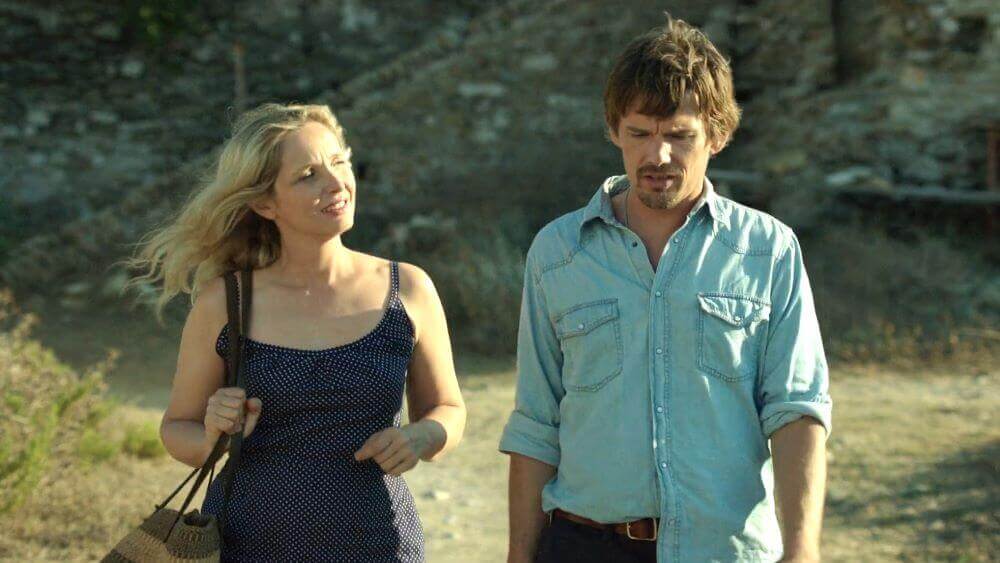 After reaching the hotel, they begin to get intimate but are interrupted by a phone call from Hank, who seems to have bonded with Céline more than Jesse. Beginning with the fact that she said, 'good luck with your mom' to Hank over the phone, which Jesse did not like because he thinks it constantly reminds him of their estranged relationship, they eventually have a fierce argument, expressing fears about the strength of their relationship.
She complained about feminine oppression. She considered Jesse's desire to move to Chicago so he can be closer to Hank, which will jeopardise her chance to building her career outside her family. To the question of Hank, Céline suggests that he can move to Paris and live with them, while Jesse argues that Hank cannot be moved from America. Jesse asked her if she could move to America.
She denied any possibility of that and demanded why she is the only one to compromise. She complains about the way he is enjoying his writer's retreat, attends household chores, takes care of the girls and writes about them on his book, his book tour, and publicity events, while she had to sacrifice her passion for music and playing guitar.
"Few people realize what it's like for an active or passionate woman to have a child", Céline argued. She said all the spontaneity had gone from their lives. They blamed each other for cheating on each other. During the argument, Céline leaves and returns to the room twice. Then she tells Jesse she thinks she no longer loves him".
Céline leaves their room the third time and sits alone in the hotel's outdoor restaurant. Jesse joins her as a stranger reminding her of their first meeting. He tried to convince her by time travelling letter of her 82 years old self where she writes to herself about Jesse to accept him regardless of his shortcomings and describing their best time in Peloponnese.
Jesse tried to win her love by saying, "I love you; I tell you you're beautiful…But if you want true love, then this is it. This is real life. It's not perfect, but it's real." Unamused, Céline says their fantasies will never match the imperfect reality. Jesse says while their love may be imperfect, but it is real. After a moment, Céline joins in Jesse's joke, and the two reconcile.
Before: the philosophical trilogy
Starting with Before Sunrise where Jesse and Céline ran into each other on Eurail and later on found love with each other to Before Midnight where their relationship reconciled from a near collapse, the Before trilogy conveys numerous philosophical quests. Numerous studies have been undertaken to analyse the underlying philosophical messages of the trilogy.
The book containing scholarly articles about philosophical analysis of the trilogy titled Before Sunrise, Before Sunset, Before Midnight published by Routledge, discusses the nature of love, romanticism and marriage, passage and experience of time, meaning of life, the art of conversation, gender and death in the Before trilogy.
Michael Smith discusses the 'day-to-day poetry of life'; Marya Schechtman talks about its 'time and transcendence'; Hans Maes points out the 'melancholy or bittersweetness of romantic relationship'; Kalle Puolakka says about its 'many faces and conversation' while Anna Christina Ribero observes 'love, death and life's summum bonum' in the Before trilogy.
Observing the quarrelling German couple on the train what Céline conveyed to Jesse was quite striking to me. She said, "Have you heard that as couples get older, they lose their ability to hear each other? Well, supposedly, men lose their ability to hear higher-pitched sounds. And women eventually lose hearing on the low end." Which Jesse thought a "nature's way of allowing couples to grow old together without killing each other." Later this is what they were to deal with.
On the very first meet, Céline confessed to Jesse that "loving someone, and being loved, means so much to me. I always make fun of it and stuff, but isn't everything we dream in life a way to be loved a little more?" I think the same that whatever we are trying to achieve is to be loved more by our parents, wife, husband or neighbour as a whole.
However, Jesse thought 'love as an escape for two people who don't know how to be alone." A similar proposition is found in Before Sunset, "I'm a strong, independent woman in my professional life. I don't need a man to feed me, but I still need a man to love me and that I could love, you know."
Lying on the lap of Jesse on the steps of Albertina Museum, Céline laid the foundation of true love which evolves from understanding each other, and each other's small things. She said she will never hate him like any couple after a few years who begin to hate each other by anticipating their reactions or getting tired of their mannerisms.
"I think it would be the opposite for me. I think I can really fall in love when I know everything about someone —The way he's gonna part his hair, which shirt he's gonna wear that day, knowing the exact story he'd tell in a given situation. I'm sure that's when I know I'm really in love."
Céline comprehended the marital unhappiness. She told him why he might not be happy with his wife. She said it is because "couples expected after a few years of living together for the passion, that consuming desire, to be the same than in the beginning", which is in reality impossible because "she has to give all her love to the little one." Our lever of excitement does not work the same way, otherwise, "we would end up with aneurysms if we were in that constant state of excitement. We would end up doing nothing at all with our lives", says Céline.
Céline, when met Jesse for the second time and was on verge of falling in love again realised the Faultline of love-life. She first reasons why she did not want to be loved by a man, "I mean, I'm really happy only when I'm on my own. Even being alone, it's better than sitting next to a lover and feeling lonely." What if after having everything we lose the most important thing that matters most: love?
After the failure of the first attempt at their love, Céline reminded "It reminded me how genuinely romantic I was, how I had so much hope in things. And now it's like I don't believe in anything that relates to love. I don't feel things for people anymore. Reality and love are almost contradictory for me."
In Before Midnight, from among the hosts, Anna, Patrick's grandson's girlfriend told a story of her deceased grandmother's mother who wrote a 26-page letter to the whole family. Anna quotes her writing, "Her big advice was to not to be too consumed with romantic love. Friendships and work, she said, brought her the most happiness."
Before Sunset is more of these. About the nature of people Céline said the same in Before Sunset and Before Midnight that even though people evolve, they are more or less the same people in the end.  "People don't want to admit it, but it's like we have these innate set-points, and it's like nothing much that happens to us changes our disposition."
Jesse concurred with Céline and said that people who won a lottery and who became paralysed after six months they became the same people months as soon as people had gotten used to their new situation, they were more or less the same. Extreme rich and extreme health crisis does not make the euphoric or suicidal.
After supper on their way to the hotel, Céline and Jesse had a long discussion about various things. Céline complains that young men have a tendency to compare themselves by signposts while women are free of that. She said most of the women who achieve anything about themselves are in their 50s.
They struggle for 30 years or they raise kids and remain stranded at home before they could finally do what they want. She thinks "it's kind of freeing. We don't have to spend our lives comparing ourselves to Martin Luther King, Gandhi, and Tolstoy.
At the hotel, in Before Midnight, when Jesse proposed her for a reasonable talk, she replied, "Here we go, unemotional, rational. You always play the part of the one and only rational one. And I'm the irrational, hysterical, hormone-crazy one because I have emotions. You sit back and speak from your big perspective which means everything you say is level-headed and true. The world is fucked by unemotional, rational men deciding shit. Politicians going to war, and corporate heads deciding to wreck the environment. Cheney, Rumsfeld, very rational men."
Conclusion
Before Sunrise (1995) is one of the 100 best films of the American Film Institute and was acclaimed for its postmodernism romance; Before Sunset (2004) was accolated for its real-time actions; and Before Midnight (2013) is the most successful film of the sequel.
Though the trilogy contains a complicated storyline, Before Sunrise, Before Sunset, and Before Midnight can be remarkable creations to pass the time, especially for those viewers who value something thought-provoking and philosophical insights.