In the Mood for Love 2000: where the cheated couples find love
Last updated on September 22nd, 2023 at 10:16 pm
In the Mood for Love is a Chinese romantic drama film about a married woman, Mrs Chan, and a married man, Mr. Cow, who became friends to discover their spouses' involvement in infidelity, but rather fell in love with each other. Mr Chan was having an affair with Mr Chow's wife who often stays at work and Mr Chan who often stays abroad on his business trip.
The theme coincides with the latest viral news about a woman who fell in love with her husband's girlfriend's husband. But for lack of courage of Chow, Su Li-zhen's love did not result in marriage.
Acted by Maggie Cheung as Su Li-zhen or Mrs Chan and Tony Leung as Chow In the Mood for Love 2000 is one of the 100 best films of all time, according to the British Board Of Film Certification, and The Guardian reviews it as one the 100 best films of 21st century, while I have considered of one of the top 100 best films to be reviewed over Persona (1966) and Raging Bull (1980). Moreover, In the Mood for Love was placed 67th position in the 2012 directors' poll.
Storyline: In the Mood for Love
In Hong Kong, in 1962, Mrs. Chan moved into her new apartment, which belonged to Mrs Suen while her husband was abroad on a business tour. The same day Mr Chow came to Mrs Suen to inquire about a vacant room. She said they don't have a vacant room anymore, but she suggested him to try the next-door neighbour, the Koos.
Mr Chow got a room with the Koos, and was also moving in on the day Su Li-zen had moved in.  Chan and Chow ran into each other they were moving their belongings. Chan works as a secretary for Mr Ho, a businessman. Mr Chow worked for a local newspaper, whose wife worked as a librarian.
In the meantime, Mr Chan returned from his trip and was getting ready for another. As the time for Mr Chan to leave for a business trip to Japan neared, Mr Chow requested Mr Chan to buy a rice cooker for him while Mrs Chan told him to buy two more handbags which she bought for her during his previous tour.
One day, after a fierce fight, Mr Chow's wife telephoned him that she will be late to home because she has a replacement shift to do. Later that evening Mr Chow visited her workplace and was told that she left the office earlier. Chow had already realised his wife's relationship with Mr Chan and was also informed by a friend of his that he saw his wife with a man yesterday.
One evening, Mr Chow had an encounter with Mrs Chan as he was hurriedly coming out of Mrs Suen's apartment where he went to use their landline to call his renter, Mrs Koo. He noticed Mrs Chan's pink handbag. One evening, Mr Chow asked out Mrs Chan for dinner and asked her where she bought her handbag from.
She said her husband bought it from abroad on his business trip. However, she asked him where did he buy his tie from. He said his wife bought it for him during her business trip abroad.  
They were shocked over the coincidental source of the handbag and the tie. To his surprise, she said her husband has a tie like his, and he said his wife also has a handbag like hers which has knowledge of. Mr Chan told her it was a gift from his boss, who has the same kind of tie. They were assured by each other that Mrs Chan's husband was having an affair with Mr Chow's wife.
At dinner, Mrs Chow gave the menu to him and him to order what his wife usually likes. The same way she ordered for him what her husband would usually like. Chow had realised that he had fallen in with Mrs Chan.
A letter from Japan came which Mrs Suen's housemaid brought to Mrs Chan thinking it was meant for her. But Mrs Chan got to know that it was a letter from Mr. Chow's wife informing her of her delayed return from Japan, while Mr. Chan was also on his business trip to Japan.
One night Mrs Chan was trapped, when the Koos returned, in Chow's room when came to assist him in writing martial arts serials. She did not want her to be revealed with Mr Chow in his room. Anyway, when things became calm by the morning, she left Mr Chow's room in his wife's heel in order to make it look like to her neighbours that she had come from her work.
Since Mr. Chow did not expect the people to gossip about them, he told her that he found a more convenient place to write the martial arts serial instead of his room, but he refused to be with him to help. From that day, when Mr Chow went missing for a few days, she looked for him and had him meet with her. Found him in a hotel.
One day when they were stranded because of a downpour in a gully near their home, Mrs Chan was broken to hear that he was planning to go to Singapore. He wanted to avoid the gossip about them. He said he did not want to be like his wife and her husband, to be in love. But he still found himself in their position, in love with her.
He confessed that as she is not willing to leave her husband, he would rather go away from her. He said that he did not want to fall in love with her, he just wanted to know how their spouses fell for each other. But she accepted the fact that 'feelings can creep in just like that,' unexpectedly.
In 1963 Mr Chow finally left for Singapore. He wanted to take her with him but she declined. However, she was broken badly. But when she finally decided to go with him, it was already too late. He left after a long wait. She also decided to move from the house she rented afterwards.
Desperately she telephoned to the Singapore Daily for Mr Chow and hung up after listening to his voice. She was seen in his room in Singapore, from where she called Mr Chow. She stole his cigarette case which Mr was looking for frantically.
Later in 1966, Su Li-zhen visited her former landlady, Mrs Suen, where she got to know that the Koos were gone. She stared at the opposite door, where once Mr Chow stayed, lovingly and tearfully. She rented the entire place of Mrs Suen as they moved to America.
The other day Mr Chow too returned to his old place and found out that the Koos were gone and Mrs Suen's place was occupied by a woman who lives with her son, apparently Mrs Chan. But he decided not to meet her, a lack of courage, I guess.
Then in 1966, during the reign of Prince Norodom Sihanouk, Mr Chow went to Cambodia. Then he found a hole in the wall of Banteay Samré site to tell his secrets that he could not tell Mrs Chan. His secrets lied buried inside the whole with straw.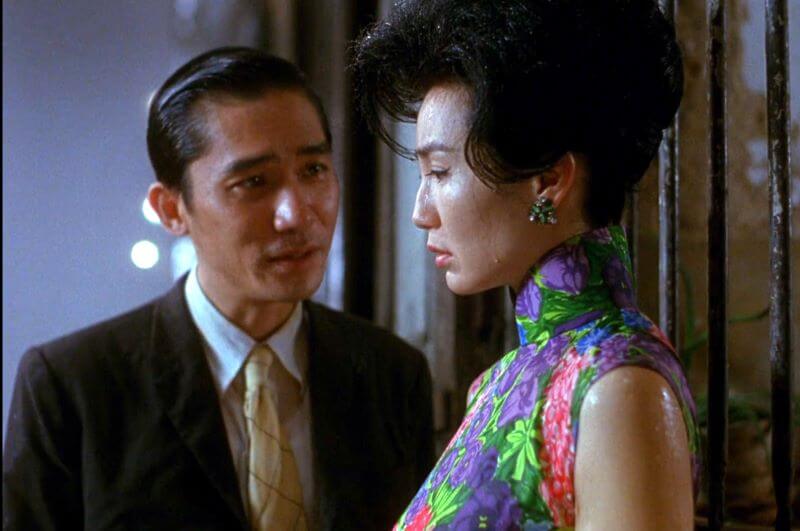 Personal Insight
First of all, I liked the way In the Mood for Love shows life and presents. The scenes were serene, and slow but addictive, as they must be in a natural setting. For me, that's what makes the film riveting and realistic. It gives a sense of authenticity of life in the unfettered race of survival.
The race of life must be slowed down to realise its beauty, and simple uncomplicated to enjoy it. Marriage, children and unbridled expectations make our lives complicated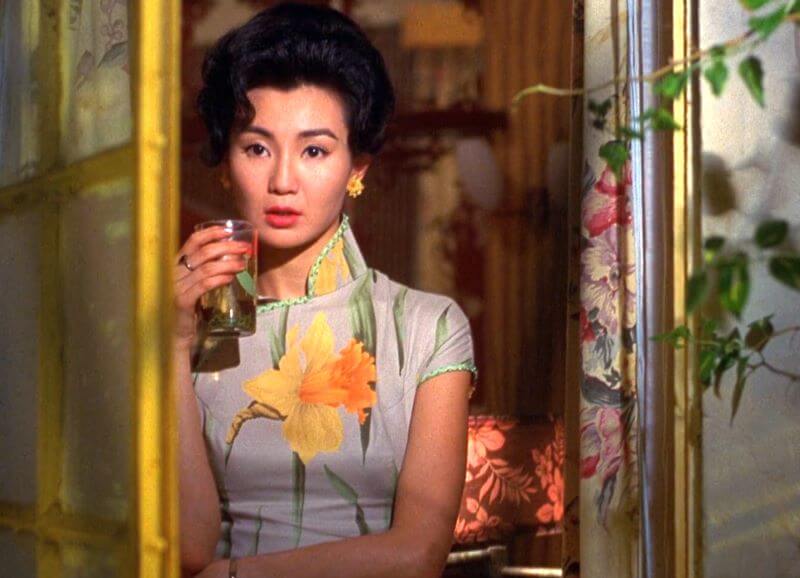 Apart from its romantic side, I thoroughly was spellbound to see how genuinely and flawlessly Maggie Cheung acted as Mrs Chan. Not only fascinatingly beautiful she is, but she also upholds life to its true essence, considering the circumstances of a woman dissatisfied by her married life and a timid lover, much like Ashley Wilkes in Gone with the Wind.
I replayed the scene many times where she was rehearsing with Mr Chow to prepare him to depart from her. At the end of the act, when she saw that Mr Chow was really walking away, she turned her face towards the wall and looked completely emptied while gazing at the emptiness of life without someone to love and be loved.
I think I would always force myself to remember their conversation regarding married life. "Everything changes when you marry", said Mr Chow. "l didn't know married life would be so complicated! When you're single, you are only responsible to yourself. Once you're married, doing well on your own is not enough", agreed Mrs Chan.
Nevertheless, In the Mood for Love is a great movie, especially for those who like to enjoy something slow, poignant, inconspicuous and yet profound. Love just happens the way it happened between Mr Chan and Mrs Chow, and Mr Chow and Mrs Chan.
The way Chow stared at her, as a night lover stares at the moon with an unfathomable and unquenchable thirst, and Su Li-zhen looked at him, I feel like what human beings need is something pleasant beside them to look at.
They need something or someone looks at cravingly, pleadingly as if in it lies the eternity, the life and the death. Because it gives us a sense of our own value through being valued by being loved by others.
It helps us to be happy and joyful. I must quote what John Keats said, "a thing of Beauty is a joy forever." Simplicity is beauty, falling in love with what is beautiful makes us think beautifully.