Science And Nature: The alarming Expansion Of Science And Reduction Of Nature
Last updated on September 8th, 2023 at 04:26 pm
science and nature and the alarming expansion of science and annihilation of nature and men have perhaps been closely knitted. If one day it goes extinct its primary cause would be science. Science has been helping people in innumerable ways as it has been able to touch almost all human beings on the planet. The constantly advancing phenomena of science have been the cause of numerous human frailty as well.
Science and nature: expansion and reduction trends
We are destroying nature for the sake of scientific and technological development so as to nurture manmade and artificial ones. We are producing crops using technology only to consume contaminated foods. We are killing natural everything as if artificial ones are our rescue. We are making ourselves independent by increasing dependency on something which is unnatural and destructive.
If one-day human beings go extinct, science will be the primary cause of it as it has put a question mark on everything natural and usual. In fact, all kind of pollution is ultimately related to science. The camaraderie between science and human being and its reckless acceptability among people propelling an inevitable premise: science and the destruction of human beings.
Nature works as a therapeutic cure for the mental and physical well-being of human beings. Nature cures and provides us. And it is also nature that maintains its laws by destroying as the necessity occurs. One day is very near when nature would not care, cure and cleanse us anymore all because of humans' enormous advancement in concrete and technological structures.
I have recently been travelling a few not only tourist attractions but also the place where the urban life-style is still a distant dream. Knowing that creeping science and infrastructural development will one day invade this pristine, unadulterated beauty of nature afflicts me greatly.
science and nature: coal-based plant of Mathatrbari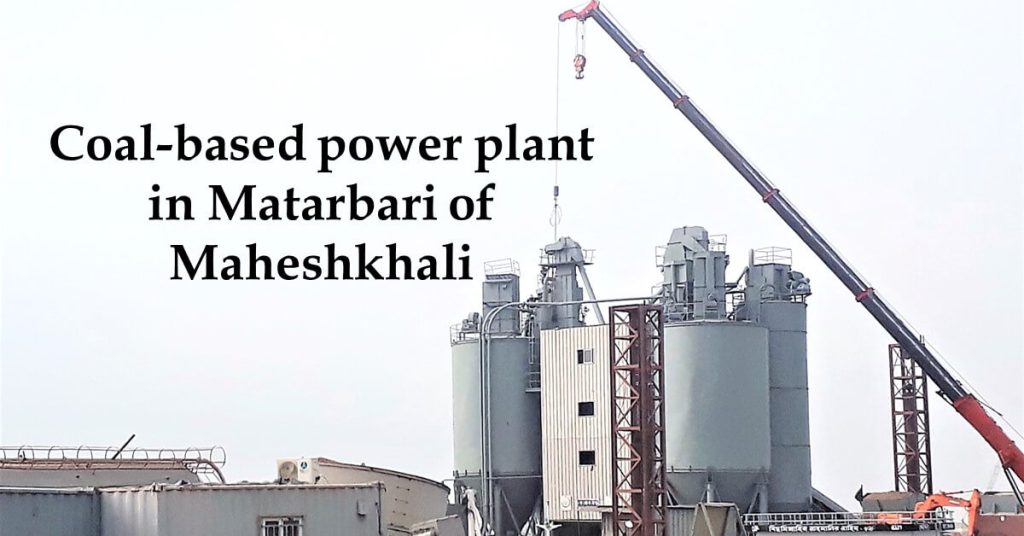 Science and nature: country's coal-based power plant is underway in the Maheshkhali Sub-districts of Cox'sbazar.
The tour specific
It has been boring for the last few months. Living in the city is getting sickening every day due to various forms of pollution. I have been looking forward to a tour to somewhere, that could be anywhere far from the city. I badly needed to have some fresh air, and indulge myself somewhere less crowded but slow living.
With some travelling buddies, we have decided to visit the Kutubdia, Maheshkhali and Sonadia Islands of Cox's Bazar districts on December 25, 2019. After a long bus and launch-boat journey of around five-plus hours from Chittagong city, we reached
Kutubdia Island at around 8 pm. Waking up the next morning was marvellous. The wintry morning with light fog, the humble but modest households, and the endless recently harvested land are bathed with the golden ray of the rising sun.
The salt-beds on either side of muddy paths, the clusters of the household community seem picturesque. The simple lifestyle and unsullied sincerity of locals are unmatched in every way. The Sufi Shrine, the light-house (Bati Ghar), the electricity generation turbines and the beautiful sea beach are some of the attractions of the island.
After a tour of a couple of beautiful places on the island, we headed for another mountainous island: Maheshkhali on 26 December. Including Muslims, Hindus, Christians and Buddhists the island has a 2.5 hundred thousand population along with 210 mosques, 26 Hindu temples and 6 Buddhist Kyangs.
The island's most attractive site Adinath Temple is located on Mainak hill, 85.3 meters above sea level. The golden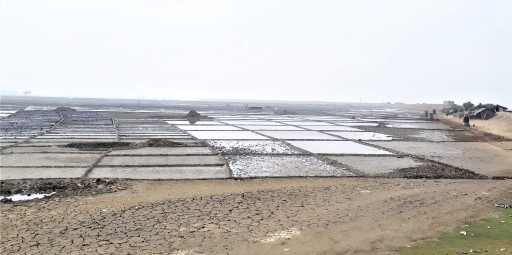 Buddhist temple, Mainak hill and Adinath temple are some of the tourist attractions. After touring Adinath Temple, Buddhist golden Keyang, the temple Jetty and Gorakghata boat terminal, we wanted to explore another adjacent island: Sonadia. The Island has no permanent human inhabitants. Of the 13 Ecologically Critical Areas in Bangladesh, Sonadia is one of them.
Earth is not a platform for human life. It's a living being. We are not on it, but part of it. Its health is our health.

Sir Thomas Moore
As there is no means of transportation, we started for the island on foot through the elevated crocked muddy path. We walked for almost one hour leaving two bridges behind but found no traces of human beings. So isolated and vast is the island that scared we had to return from just halfway as there would be no certainty of turning back amid daylight.
Forest and rivers intertwined the island. People of the neighbouring areas are totally dependent on the island's resources in many ways. It is so peaceful and beautiful that from which we did not want to come back. But the future plan of constructing the deep sea-port and economic greed will resonate it: science and destruction of human beings.
The next day we stepped on the land of the coal-based power plant, Matarbari. Exhilarated to see how rapidly urbanisation and concrete development took shape in the area where two decades ago when I went there for first-time transportation by land was a distant dream for the people of the region.
Now there are solar panels on nearly every roof of the house, electricity everywhere, battery-run tri-cycle to move, gigantic foreign dredgers, sky-rocketing cranes, air-conditioned structures, residential hotels, medical facilities, and daily increasing financial inflow is remarkable.
With the advanced machinery, the old form of communication, engine-propelled boats, have gone extinct. But with all the development prospects came increased affliction for the locals. Many landowners who had to give up their land property for the power
plant project lament for not having been paid the proper price for their land, many who have lost their last means have not been employed with the project as nepotism takes its deep root.
Many have lost their land where they would do seasonal farming around the area. Canals and wetlands where the locals have been dependent have now been filling up or disappearing because of the strong influence from the adjacent project. Fishermen's fishing areas are downsizing every day. Many others are uninterested in rebuilding their homes because of possible future eviction from their homestead.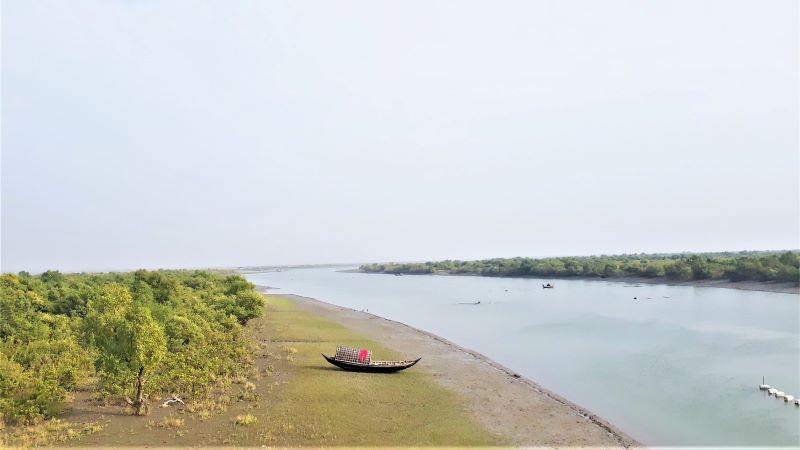 The effect of climate change is taking a toll on the people of the Kutubdia, Maheshkhali and Matarbari islands already. Rivers and water bodies are disappearing gradually. The huge amount of sediment caused by river erosion has created a vast amount of coastal areas in the basin of the Kutubdia-Maheshkhali channel.
The terminal jetty of Cox's Bazar and Maheshkhali port is getting farther into the sea every year. Depleting aquatic species in the Bay of Bengal is leaving the fishing community's livelihood threatened.
This environmental phenomenon forces many people to leave their rural homes and seek refuge in the urban cities every year which aggravate the living condition of the cities in turn.
Rapid urbanisation and development activities offer nothing but displacement and en mess migration of the poor community. The poor people are being hit hard by either effort.
The size of arable land steadily decreasing, salt beds are dwindling, the water bodies are getting smaller, the fish population is becoming noticeably smaller, and the farming community is becoming less interested in farming.
A coal-based power plant development is in full in Matarbari of Maheshkhali Island while the construction of two deep seaports is also underway. The government's power greed may leave Maheshkhali Island desolated and uninhabitable in the near future due to increased thermal radiation.
"In 30 years, we won't be able to live here anymore", says a despondent resident of the island. True that the communication and economic prospects of the people of the island increased in someway. But the threat to the livelihood of people of the region also increased many folds.
The vast area for the power plant requires a huge amount of land in Matarbari. Many people who would survive on salt and fish farming are now forcefully turning to other professions. Due to the power plant project, the supply of sea-water is obstructed. Farming is disrupted as it is completely dependent on seawater.
Sonadia Island has a vast mangrove forest. The government of Bangladesh is working on constructing a deep-sea port in Sonadia Island. Instead of Kutubdia, Japanese specialists found the island suitable for constructing the deep-sea port as silt accumulates per year in Kutubdia is alarmingly high and needs a huge number of people to be relocated and economically too costly.
To end, we have to return to the same controversial premise: is the Science and Destruction of Human Beings phenomenon inevitable? If we continue our infrastructural and technological development through the destruction of nature and the natural environment then our destruction is indeed inevitable.
Because we ARE nature. We are natural and part of nature. Science and technology are destroying our cooperation with nature gradually and increasingly. Our journey to these wonderful islands was, in fact, a poignant one. See nature. Love nature.