Singin' in the Rain: The 1952 Musical Movie That Will Make You Smile and Love
Last updated on September 24th, 2023 at 11:48 am
Singin' in the Rain is a 1952 American musical romantic comedy film directed by Gene Kelly and Stanley Donen, starring Kelly, Donald O'Connor, and Debbie Reynolds. The film is set in Hollywood during the transition from silent films to "talkies" in the late 1920s.
The story follows the lives of silent film star Don Lockwood (Kelly) and his leading lady Lina Lamont (Jean Hagen), who struggle to adjust to the new technology of sound in film. Don falls in love with Kathy Selden (Reynolds), a young actress who helps him and Lina navigate the transition.
Singin' in the Rain is widely considered to be one of the greatest musical films of all time, and is known for its memorable performances, catchy songs, and vibrant choreography. The film was nominated for two Academy Awards and has since become a beloved classic.
Singin' In The Rain brings you the history of how the films started their journey with voice. It is a story of the history of how Hollywood adopted its evolution from silent to talkie films. It is also a history of why acting, singing and dancing matter for actors.
Background
After a lot of struggle, the public demand for a 'talking picture' and huge competition between film studios are responsible for it to come up with inventive ideas to make films even more enjoyable. We can also observe how the 'self-importance' of an actor becomes as powerful as to control the whole studio.
This is what Lina Lamont (Jean Hagen) said to her counterpart as he threatened to quit his acting career if she keeps using Kathy Selden (Debbie Reynolds) for her glory and her career to grow even greater: 'Who needs you? They'd come to see me if I played opposite a monkey"!
The romantic musical film Singin' In The Rain is still considered to be the greatest musical film ever'. The Library of Congress, in 1989, included in its National Film Registry as a 'culturally, historically or aesthetically significant film, the British Film Industry included it in its list as one of the 50 films, in 2005, to be watched by the age of 14, the British film magazine Empire ranked it as one of eight best films of all time and it is also one of the 100 best films in the list of American Film Institute.
Considering all the accolades and height I have included it in the list of 101 best films of 100 years to watch. I hope all the film lovers will find it worth their time while. I have chosen to describe my views in two segments: Love for the publicity's sake and the evolution of a Talking Picture in 1920.
Love for the Publicity's Sake
Not bad if love is displayed to maximize the publicity and financial profit of the studio, thereby. Singin' In The Rain-1952 portrays that love can be an instrument to remain at the peak of fame, as long as the public is unaware of the state of their heart. Perhaps, the loveliest fair on the screen is not as loveliest as it is described by showbiz media and fan magazines.
Hailing from a very humble root as a singer, dancer and stuntman, the protagonist Don Lockwood (Gene Kelly) was falsely taken as a lover by his counterpart, Lina Lamont. Lina by nature is a cunning, conniving and conceited actor who lacks the quality of singing, dancing and acting and had an exceptionally thin voice. But still, maintain popularity during the time of silent pictures while talking and singing were not needed.
Lina erroneously believed that Don is truly in love with her while he could not tolerate her ill-intentioned behaviour. She wanted the public and media to believe that Don is also in love with her because it helps money to follow.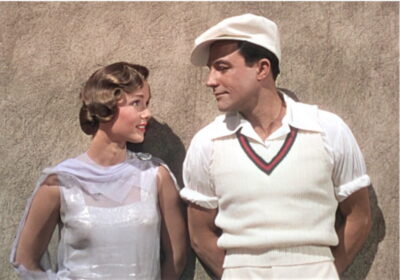 Evolution of a talking picture
One day, during the premiere of their film The Royal Rascal, Don jumped into a car driven by Kathy Selden. Even when Kathy got to know that the accidental passenger was none other than the film actor Don Lockwood, she seemed not to be impressed by his profession because she thought doing a film without talking is a dumb idea. To her acting means, "great parts, wonderful lines, speaking glorious words, Shakespeare, Ibsen ".
Before dropping him she claimed to be a stage actor. Later R.F. Simpson, the head of Monumental Picture arranged a gathering to demonstrate his idea of a talking picture, but not everyone seemed to like it.
During the after-show dance, Kathy was revealed from a humongous mock cake. Being teased about her stance that she 'cannot learn anything from films' by Don she threw a cake on his face but fell on Lina's face. Ashamed Kathy left the event as soon as possible.
Later on, impressed by her performance in Warner Bros studio R.F Simpson hired her.
In the meantime talking music videos, "First Talking Picture, The Jazz Singer' by Warner Bros became an 'All-time smash at the end of the first week." Demanded by the public for more 'talking pictures', Simpson decided to make a talking picture, even though no one knew anything about the gadgets. He just wanted to make duelling that talks. But to do so Lina and Don's New York accent had to be dropped. They, Lina and Lockwood went through some diction sections.
They named it The Duelling Cavalier. To add sound to the picture they put a mike in the nearby bush so it can pick the sound from their dialogues, but it could barely be heard thanks to the distance of placing. Failed, wired they put the mike inside her frock so that the sound recorder can easily pick up the sound, but this time it was so close to her chest that it started picking up the sound of heart-bit.
Again, they put the mike on her shoulder, hanging on her back part of the frock, but it was too far for the sound recorder to pick up from the dialogues. Nevertheless, once the recording and shooting were completed the film premiered.
Combined with cheap dialogues, repetition of 'I love you' and bad synchronisation of sound The Duelling Cavalier turned out to be a very disappointing piece of work. All were disappointed.
The music director Cosmo ( Donald O'Connor ) suggested that they should remake the film into a musical one. But Lina's inability to sing, dance and act appeared to be the triple threats. Cosmo proposed that they can use Kathy's voice instead of hers. They came up with the idea of dubbing the voice of Kathy without Lina's knowledge, in case she becomes angry and feels insecure about her career.
They renamed it to The Dancing Cavalier. Kathy came into a five-year contract with Monumental Picture and agreed to voice for Lina for once. Everything went perfectly: The first talking film by Don Lockwood and Lina Lamont to be premiered on time. But Lina encounters Don kissing Kathy and found out that Kathy will also be in the picture, while Don confessed his love for her.
Infuriated, Lina tried to convince Don that Kathy was using him to get ahead in her career, and threatened that she would go to R.F Simpson to make him fire Kathy, to put a stop to that. Knowing that Kathy's fire would also be detrimental to her career as well Lina left them with an assurance that an exclusive story was given to every paper in the town, which says "Premiere tomorrow night to reveal. Lina Lamont, big musical talent. This left no room for credit to Kathy.
The film turned out to be a huge success. During the premier, Lina was requested by the audience to make a speech. Owing to her thin voice, every time Don did the talking for her, during the time of Silent picture when the voice on the screen did not matter at all.
Not knowing the imminent danger to her career, this time, she decided to do the talking. Presumably, the audience laughed and grumbled at her as they could not match the voice they heard in the film with the one she did talking.
Appalled, the audience requested her to sing to them to prove her voice. She ran to the back of the stage to decide what to do with it, her fakery will be revealed if she sings a song with her voice. Back at the stage she again expected to use Kathy's voice without giving her any credit. She wanted to use her career to her glory.
For her self-importance stance and conceited R.F Simpson, Cosmo and Don figured out how to expose her fakery and teach a lesson. They thought of putting Kathy behind the curtain with a mike to sing while Lina would sync her lips, and the curtain will be drawn to reveal the real hero behind Lina's wonderful voice.
They went ahead accordingly. They once again forced Kathy to sing for the last time at Don's request but decided to do so with the condition that she will never see him again 'on or off the screen. They removed the curtain exposing the due in the middle of the song, Singin' in the rain.
Humiliated, Lina escaped the stage while Kathy was interrupted from fleeing through the crowd and given her proper credit for her wonderful voice.
Singin' In The Rain quotes
Acting means great parts, wonderful lines, and glorious words.

-Shakespeare

Ibsen". "People think we lead lives of glamour and romance. Terribly lonely".
Verdict: Singin' in the Rain
Not everyone may like Singin' in the Rain for the first time. To understand the whole story it must be watched at least two times. I love the film because it has some beautifully sung songs with soothing melodies because it talks about a time when sound and acting appeared to be setting a transition from soundless to sound films.
It has a few beautiful songs with brilliant dancing which I would love to watch repeatedly, especially Good Mornin' and Singin' in the Rain. I love the way Don needed a proper ambience to express his love for Kathy. He needed a beautiful, emotion-filled space to release his beautifully arranged works of love, to Kathy.
I would always count Singin' In The Rain as one of the 101 best films of 100 years. Singin' in the Rain is widely considered to be one of the greatest musical films of all time, and is known for its memorable performances, catchy songs, and vibrant choreography. The film was nominated for two Academy Awards and has since become a beloved classic.