The Parent Trap 1961: when parents are trapped by the twines to fall in love twice
Last updated on August 21st, 2022 at 10:16 am
The Parent Trap 1961 is an American drama-comedy that depicts how two separated twin sisters accidentally encountered because of their resemblance at school camp, who then were able to bring their separated parents together, one year after their birth. Sharon and Susan made them fall for each other by recreating things that happened when they first fell in love, by switching their places with each other.
Separated one year after their birth the two sisters lived in two different states, Sharon McKendrick lived with her mother in Boston, and Susan with her father in California. They accidentally ran into each other during their school camp. They were fascinated to see each other's mirroring resemblances. With hostility towards each other, they got punished by the camp superintendent by being isolated to an isolated cabin where they discovered their parents.
Starred by Keith (as Mitch), Maureen O'Hara (Margaret), Hayley Mills (Susan and Sharon), Joanna Barnes (as Vicky) and others, The Parent Trap 1961 is one of the best 100 films of 100 years on my watching list.
Storyline
Susan and Sharon noticed each other the very day they arrived at Camp Inch during their lunch. Because of their similarities, they started to bear hostile attitudes toward each other. Sharon toppled Susan's canoe in the lake as she refused to cooperate with her on the quest why they both looked the same.
At night, Susan and her friends trapped Sharon and her two friends in their hose Arapahoe by pouring honey on their bodies and dirt. In avenging, Sharon and her friends cut the backside of Susan's frock during a dance between the Camp Inch girls and Thunderhead Boys' camp boys. Ashamed and disgusted Susan ran to her dormitory. However, because of their hostile behaviour, the camp commander put them into isolation, punishing them. The commander Miss Inch resolutely said that either they should reconcile their hostility to love with each other or punish themselves by each other more than she could.
A strong wind came that night, while Susan was sticking the photographs of Ricky Nelson on the wall. Sharon came to her rescue and tried to prevent the wind by holding the curtains. Seeing her benevolent act Susan befriends her. Interested Sharon wanted to know about Susan's home town. Susan showed her the album of photographs of her family and home. Sharon was struck to see a man's photograph and asked Susan who that might be. Susan replied that, that his name is Mitch, her father, but never saw her mother who was a fabulous lady.
Sharon also revealed that she had never had a dad as her mom and dad separated years ago. Coincidence might be, that they found out from each other that they both are 13, and will be 14 on November 12. Sharon wanted to know who Susan's mother was. Susan says she never saw her mother while Sharon had never seen her dad. Sharon showed her a picture of her mother, and immediately Susan realised that that same woman on the frame is her mother too. They found out that they are twine.
They thought their parents were separated on silly matters, but still love each other, which is neither of them remarried. From that moment they both realised that there were separated 13 years ago. Neither of their parents does know each other's whereabouts.
They determined to unite their parents in order to live with their parents again. In doing so they decided to switch their places. Sharon, who was with her mother for thirteen years wanted to take the place of Susan, who had been with her father.
Sharon had Susan's hairstyle, so as to make themselves look alike. They each other thought about how things should be done to deal with the new environment: how to talk, what to avoid unexpected situations, etc. They taught each other their distinct personal differences. Sort out individual behaviour so that the family members do not notice their switches. Susan had to develop the habit of nail-biting and chewing gum.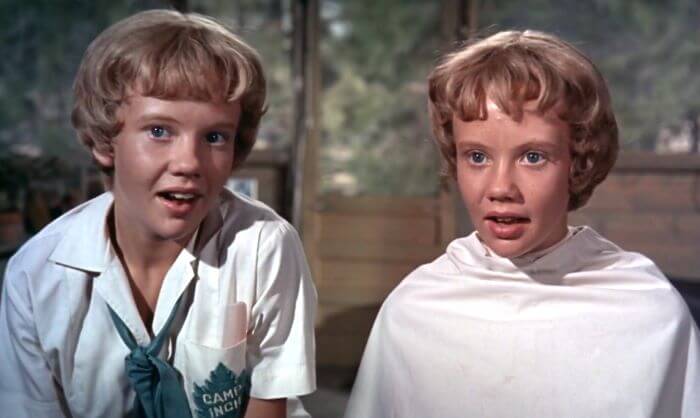 And as the camp ended, Susan ended up in her mother's place, without her mother noticing, except for the hair. Because of Susan's strange behaviour, her grandparents and the maid became suspicious about whether she was their actual Sharon or not.
In California, Sharon found out that her father, Mitch, is about to get married to a woman who was waiting to take advantage of his riches. But Sharon categorically rejected the idea when approached by her father about their marriage, and informed Susan in the middle of the night that they must be in hurry in getting them together. And urged her to bring their mother to their father. However, as Susan was caught by the family, she said was not Sharon, and she revealed everything to her mother.
Susan with her mother flew to California with the intention intercept the wedding. The day Mitch invited the priest along with Becky's mother to plan to do the wedding at his home, Susan with her mother, Margaret, showed up making Mitch undecided and the situation conflicting. Margaret told everything to Mitch that it was Sharon and Susan's plan to make the together, not hers.
But, still determined to marry Becky, Mitch offered that instead of keeping the twins separated they both can stay with each of their parents, for half of the year: Six months with their father and six months with their mother. The twins recreated the important moment of Mitch and Margaret's life: their first date through stage performance and arranging the drinks and food, to make them fall again in love with each other.
The twins proposed a camp out for three days the day Margaret decided to leave for Boston. Seeing no hope of getting together with Mitch, when Margaret was waiting to say goodbye to Mitch and Susan and take Sharon with her to Boston, the twins came downstairs wearing the same looks. The sisters said that they want to spend some time together at camp out. And their parents cannot distinguish who is Sharon and who is Susan, they said after returning from the camp out whichever is Sharon will not go to Boston.
Margaret missed the flight and Mitch agreed to have a campout. But Mitch and Margaret wanted to take Vicky along which she did with her reluctance. Margaret remained back at home. However, during the camp, the sister had scared and exasperated Vicky so much that she had to leave the camp alone and never showed up to Mitch.
And after the camp when they decided to part, Mitch revealed to Margaret how much he missed her, and never married just for keeping her memory alive. The next morning Sharon woke up with a dream of their parents getting remarried. Reunited they decided to live together with their children close to each other.
All true love creates beautiful agony.

The Parent Trap 1961 quote
Conclusive remark
If any lesson the Parent Trap had to teach us is that what was said by the sisters that 'soon there would be more divorces than marriages." Children are victims of their parents' reckless or immature decisions they make along the way. Separation or partition surface sometimes as the only solution to the marriage feud where children have to suffer. Rings true to me what Margate said the Susan that, "sometimes even when people think a lot about each other, they sometimes just don't get on together." The Parent Trap reminds us of many things.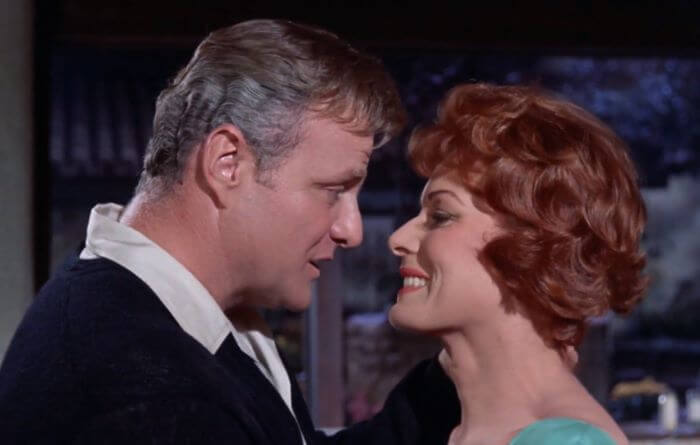 As a victim of such an unexpected separation, Susan was afraid that they will have to accept the 'six-month split', which she was a lot in her school camp. She said to her mother that the 'six-month split' makes her feel like a bathroom towel, His and hers. Sharon feared that soon there going to be more divorces than marriages. In fact, according to the CDC researchers found that in America there are 2.3 divorces among 1,000 marriages and 5.1 marriages among 1,000 population. 1,316 single female parents raised 1,250 children, while 388 male parents raise nearly 500 children per 1,000 children under 18, in the USA in 2021.
The research found that the majority of divorces affect younger children since 72 per cent of divorces occur during the first 14 years of marriage. Because a high percentage of divorced adults remarry, and 40 per cent of these remarriages also end in divorce, children may be subjected to multiple family realignments.
According to PEW Research, in 1960, nearly nine-in-ten children under age 18 resided with two married parents (87%); by 2008, that share had dropped to 64%.24 Over the same period, the percentage of children born to unmarried women rose eightfold, from 5% to 41%. Far more children now live with divorced or never-married parents.
Again, the eternal game of love and romance makes us even wiser when encountering anew complexity of life. Margaret and Mitch remained separated for thirteen years, having thoughts of each other. Cherishing some banal character traits of daily habits of each other. At the final moment when Margaret asked Mitch what does he miss about her, he replied, well…I don't care if it does sound silly. I miss those wet stockings you used to have hanging around the bathroom.
And I miss my razor being dull because you used it to shave your legs with. And I miss the hairpins mixed up with the fishhooks in my tackle box. It's no fun having a clothes closet all to myself. And it's no fun swearing because you're not around to… make-believe you're shocked by it. Well, nothing's any good without you, Maggie. I miss a lot of things. I guess I just miss you."
When Margaret accompanied Susan from Boston to Mitch's California house, he did not know that she was at home, and was stupefied to find her brasier at the bathroom glasses. Indeed, separation may leave us apart, but we cannot leave our love and attachment behind with the time. The person's existence in the imagery of bare legs, the smell, habits, and voices start haunting us after a while, when are worn out of our irritation with each other. If "familiarity breeds contempt", a little separation creates the agony of love to be united.
---