Last updated on August 21st, 2022 at 09:24 am
The 1939 French film The Rules of the Game-1939 is a part of my journey to watching 100 best films of 100 years: from 1920 to 2020. The film is starred by Australian actress Nora Gregor, Paulette Dubost, and Marcel Dalio, and others. The satirical comedy-drama The Rules of the Game was set on the eve of WWII that focuses on the romantic affair between aviator André Jurieux and an Austrian-French noblewoman Christine. Aviator André fell in love with Christine, the wife of a French nobleman Robert, and became a victim of affection by being killed.
The French film directed by French director Jean Renoir; The Rules of the Game-1939 is said to be one of the greatest films in the history of cinema. It shows the moral callousness of the Upper-class people of French society and their servants. Because of lustful attraction between the people of the European upper-class society the moral discretion plummeted. It also depicts how these people find hunting so pleasurable even though it does not bear any real significance.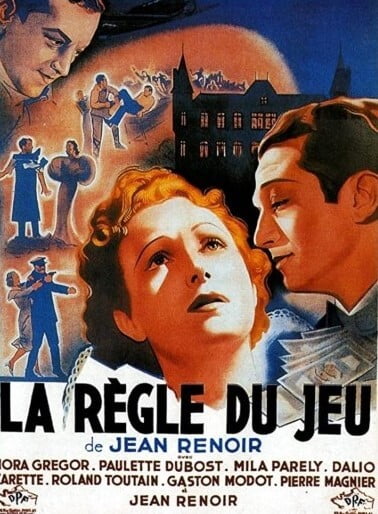 But still, when the Powerfuls control the string of socioeconomic advantage, they can also control the feelings of people whether valid or not. Aviator André Jurieu's attraction toward Christine ultimately caused him to embrace indignation and, eventually, an unexpected death. A killing that was redefined by the upper-class as an unfortunate accident.
If Mozart's The Marriage of Figaro is an epistle to the late eighteen-century Europe's feudal right of the lord of the manor to enjoy the favours of any newly married on his estate on her bridal night, The Rules of the Game-1939 of Jean Renoir is a revelation to the people of the same continent of the world about the game-play of killing, either for love or pleasure, of the upper-class. It reveals about love in society, the ideal transformation of an uncontrollable freewheeling force of desire into an enduring and stable social bond.
The Rules Of The Game Film Plot
The famous aviator André Jurieu, who has just performed a tremendous feat by crossing the Atlantic in 23 hours has landed at Le Bourget airfield from America. Octave, André's friend came to congratulate him in the airfield. André asked him why Christine, the woman he loves, did not come while, ministers, journalists, and people from all walks came crashing the police cordon. André told Octave that whatever he did, he did it for her. Octave simply said she couldn't make it.
When the radio reporter asked him if he had anything to say about the flight, he said 'I am very happy. I've never been so disappointed in my life. I made this flight for a woman. She's not here to welcome me. But she did not come. I say it publicly that she is disloyal'. André's statement was broadcasted. And Christine's husband, Robert, heard what he told on the radio. Robert told her that she could have gone and welcomed him as a token of affection. But after the announcement he decided to break-up with Geneviève, another noblewoman with whom he was in relation, to marry Christine.
On the other hand, on their way home by an automobile with Octave, André drove it into a ditch out of frustration. Unhurt Octave vehemently blamed him for the accident, but André amid the heated argument told him that he does not want Christine to marry Robert and wants her to be happy. André tried to convince Octave that to make her happy he must let her come with him.
But Octave blamed André for talking like a child on the radio while he received the heroic welcome. André said he behaved that way because she encouraged him and was disappointed when she did not show off. Octave reason that she did not because she is a society woman, and society has rules. But André decisively declared that he will die if he cannot see her again. Powerless, Octave promised him that he is going to see her again.
André's very kind and very decent, but too sincere. Sincere people are such bores.

Christine, The Rules Of The Game-1939
Came back to A château (a manor house or residence of the lord of the manor, or a country house of nobility or gentry, with or without fortifications, originally, and still most frequently, in French-speaking regions) Octave pleaded with Christine André to invite him to "La Colinière" castle which she agreed to and said 'I don't want to be the woman who drove to despair the great hero, the idol of the masses. If his plane crashes, they'll blame it on me. They'll call me a vamp, a public enemy, an obstacle to progress. They'll talk about "the foreigner. I am against martyr".
Geneviève also got invited reluctantly by Robert to La Colinière. Octave assures him that if he wants to end the relationship with Geneviève, he must leave it to him. He will see to it, but in return, he must do him a favour: Invite André to La Colinière. Robert agreed to invite André because of his love for Christine and wanted to leave Geneviève, at any cost. "I am against barriers and walls', said Robert, and ensures that he 'trusts Christine and if she loves him separating them won't stop her'.
The next day all men and Christine, along with her niece, Jackie, went hunting in the woods where the gamekeeper (a gamekeeper is a person who manages an area of countryside to make sure there is enough game for shooting and stalking, and acts as a guide to those pursuing them) of the estate caught a poacher Marceau who was hired by Robert as a domestic servant.
Geneviève reached La Colinière and was informed by Robert that André was also invited to the weekend-party. Later on, Christine and her husband, niece Jackie and other guests and staff welcomed André cordially. In front of all the guests and staff, Christine declared
"I must confess something regarding my relationship with André Jurieu. I had a small part to play in his exploit. While preparing for his flight, André came to see me often. We spent long hours together. Very pleasant hours. Hours marked by the rare sign of friendship. He told me about his projects and I listened. It's important to listen. In this case, it wasn't a waste of time. I'm very proud, and I wanted you all to know it".
They threw a big party on the occasion. Marceau, the poacher, showed up at the table. He dined with the guests and found Lissette attractive. Marceau was employed as a boot man. After the dinner, André and Octave spent the night in the same room while Christine went to bed alone dismissing her mistress.
The next morning André, Octave, Robert, Christine, Geneviève, Jackie, and many others went for pheasant shooting in the estate. Together they hunted hundreds of pheasants and rabbits. But as all were about to leave the woods Christine saw from afar through a binocular her husband embracing Geneviève. Geneviève implored him to offer her a farewell kiss, but Robert insisted that he does not love her anymore. Returned from shooting Geneviève started packing her things in order to leave château, but was interrupted by Christine. She revealed to Geneviève that she knows about her affection towards her husband, still, instead of any hostility, she urged her to stay and enjoy the party Tyrolean traditional masked ball that night.
At night they threw a Tyrolean traditional masked ball dance party at the La Colinière. Many romantic attachments were formed. Lissette approached Marceau, the shoemaker with her new cape. Marceau made advances to her as well. But playfully she moved away, still inside the room, and presumably waiting to be caught by him.
But when Marceau managed to catch and tried to kiss her on the neck, Schumacher, her husband appeared. He got furious to find them in a compromising posture and holding the collar of the shirt he tried to deal with him but could not as another staff intervened the situation and boot man was let go for the first time.
Christine, André, Octave, Robert, Geneviève, and other performers performed the Tyrolean ball dance and kept the audience bemused. Lissette's husband confronted Lissette and Marceau once again during their intimate moment. André was separately looking for Christine to be with, while Geneviève was seen to be forcing Robert to be with her. Schumacher kept chasing Marceau from hall to hall, room to room, for his advances toward his wife. The back-stage rooms turned into the sea of chaos by lovers and beloveds and masters and servants alike remained busy looking-for their counterparts to be intimate with.
The awful thing about life is this: Everyone has their reasons.

The Rules Of The Game qoutes.
In the chaos of frantic searching, Marceau was trying to escape from Schumacher's clutches; André found Christine with another man named Saint-Aubin; Jackie, Christine's niece, was up to André while Robert was looking for his wife. Infuriated, André slapped Saint-Aubin. Amid the fiery argument, Aubin returned a punch on André. Eventually, the argument turned into a scuffle between the two. Saint-Aubin ran out of the room and was hurrying up-stairs.
But André intercepted his ways as he managed to land few punches on him. Vanquished, Aubin fell on his knees and started groaning as André ran to Christine and closed the door. André wanted to know why she wasn't there at Le Bourget airfield to welcome him. She said she did not go because she loves him and did not want to admit it. She admitted that she loves him.
Christine offered André to run away secretly as far as possible with him. But he said he must inform Robert as a host of the party. She disagreed with the idea, and said: "but since we're in love, what difference can it make"? "Even so, Christine, there are still rules", André reasoned. However, she unequivocally said she would run with him 'now or never'. In the meantime, Schumacher caught Lissette and Marceau for the third time in the dining hall.
While trying to handle the situation Robert ran into the room where he discovered Christine and André were holding each other dearly, he immediately punched André in the face. They had found themselves fighting, punching, and throwing each other on the floor in front of Christine Their scuffling stopped once they heard a blank fire from Schumacher's gun while he was chasing Marceau. Octave rescued Christine from the situation and took her out in the nearby woods and implored her to behave reasonably about André. Schumacher's intention to kill Marceau did not succeed, Robert rather sacked Marceau and Schumacher for the damage they caused.
Robert tried to make André understand that he wants her to leave with him (André), but she has a certain very expensive life-style which he may not be able to afford. Octave was still trying to make Christine understand that she should not run away with André.
Lissette who was frantically looking for Christine found her with Octave out-side the door, near the estate, and implored her to come in but she said she would walk a little with Octave in the woods. Considering the cold weather of the night Lissette lands Christine her new cape that Schumacher bought her last night.
Shattered after being fired the two men, Marceau and Schumacher, took shelter in the nearby woods where Octave and Christine took refuge to. Suddenly, alarmed they noticed a woman in Lissette's Cape walking holding Octave's hand. They conceptualised that it must be Lissette cheating on Schumacher with Octave. They followed them in the greenhouse, which Christine and Octave chose to escape from. Unexpected though it sounds, Christine admitted to having a crush on Octave, who has been with her there to protect her as an elder brother since her father died long ago.
Asked Octave if he loved her too, 'Yes' he said, "then kiss me on the mouth like a lover" said Christine. Felt betrayed Schumacher determined to kill Octave, not knowing whom he kissed. Octave decided to elope with Christine and ran to château for her coat leaving her in the greenhouse alone.
At château, Octave was advised by Lissette that it is not fun to be seriously in love and decide to live with Christine. Falling in love for the sake of fun is okay, but living with the young is for the young and the old for the old. She reminded him that he doesn't have much money while Christine needs a lot of things. "What will you do without money"? Lisette asked. Octave found his reason, immediately, for not to going back to her in the greenhouse.
Confronted and asked about Christine by André, Octave said she is waiting for him in the greenhouse, over the footbridge, and was told that he must be in a hurry. "You love her too"? With a sudden appearance, Robert asked Octave as André hurried out. Octave admitted to Robert that he too loves her.
You can fight hatred, but not boredom.
The two guys were waiting to kill the lover of imagined Lissette, while Christine was anxiously waiting for Octave to return. Hurried as André neared the greenhouse Schumacher aimed his rifle at the running figure and fired a shot thinking it was Octave, the lover of Lisette. André immediately fall-flat in the bush crying 'Christine'. Christine ran to the shot-man and fainted. Then Schumacher and Marceau realised their mistakes. Because the man Schumacher shot is not Octave and the woman they thought Lisette is in fact, madame Christine.
Marceau ran to the château to inform that André was shot dead. While Lissette and Robert were hurrying to the greenhouse, Octave stopped Lisette and told her that he is leaving and requested to inform Christine that.
Marceau went back to the woods where he came from, Octave returned to Paris, Schumacher was reappointed as a gamekeeper. After bringing back Christine Robert announced to the staff of the house and the guests that the killing of André was just an accident. Because warden Schumacher fired him thinking he was a poacher.
The Rules Of The Game Movie Quotes
"What's natural nowadays?"
"The more you give, the more they want".
"Men are so naïve to think affection as of love."

The Rules of the Game Movie quotes
"Telling lies is such a heavy weight to bear."
"Love as it exists in society is merely the mingling of two whims and the contact of two skins."
"Believe it or not, you mean a lot to me. I don't know if it's love or force of habit." "So, in Paris, you can't show a man affection without…touch."
"The awful thing about life is this: Everyone has their reasons."
"Diets I can accept, but not obsessions."
"Constraint spoils the pleasure."

The Rules of the Game Movie quotes
"You can fight hatred, but not boredom."
"André's very kind and very decent, but too sincere. Sincere people are such bores."
"Today everyone lies. Pharmaceutical fliers, governments, the radio, the movies, the newspapers. So why shouldn't simple people like us lie as well?"
Conclusion: The Rules of The Game
The Rules of the Game-1939 is a testament to a given time of certain societal character of a certain class of people whose moral standards were keenly responsible for the emergence of a great war on humanity. If anyone watches the film and thinks about the perspective, he may obtain a few pressing questions related to love, lust, and the power of the powerful.
Yes, indeed if the ball is hit beyond limited forces it goes beyond the set boundary of beauty and discipline. Because discipline and moral constraints are preconditions to beauty. André with a heroic prospect of life was blinded either by class obsession or natural male competition of winning a partner.
There are numerous Andrés, who were inspired by women like Christine, or inspired many women like Jackie. But love blinds the reason, and André's life was cut short for his unreasonableness. In a just society, a killer is always a killer.
But why Schumacher, even being a killer, was re-employed? Why Marceau was discharged from his duty while Lissette was also a part of his delinquency? Why Lissette was still her job, even though she was also responsible for moral misconduct? Was it because of her devotion to Christine, instead of to her husband? The Rules of the Game-1939 says how morality sucks in the upper class.
---