Vertigo 1958: the romantic dilemma of an acrophobic detective
Last updated on September 23rd, 2023 at 04:34 pm
Vertigo 1958 is based on the life and romance of an acrophobic retired detective. He was used by his greedy friend as a witness to his suicidal wife, who was supposedly called to be possessed by the spirit of a dead person. Detective John's friend Gavin wanted to get rid of his wife to possess her wealth by staging her death as suicide whereas Madeleine had to become a tool to the process of victimising John. 
Vertigo (1958) is a romantic drama film which is one of the 101 best films of 100 years on my list of watching. Vertigo is the 9th film of the 100 best films of 100 years, according to the American Film Institute, one of the 100 greatest films of the American Film Institute selected by 1500 leaders of the film community.
It is the number one film among the 100 Greatest Films of All Time by the British Film Institute; the 21st film of the 100 best films of Cinemarealm; and one of the Complete National Film Registry Listing of the Library of Congress. Starred by James Stewart, Kim Novak and directed by Alfred Hitchcock Vertigo (1958) is based on the novel D'entre Les Morts by Pierre Boileau and Thomas Marcejac.  
Storyline: Vertigo 1958
An acrophobic retired detective was hired by his friend Gavin Elster, who is in a ship-building business. The detective, John Ferguson, is married to a wealthy woman. Gavin hired him to keep an eye on his wife Madeleine's movements. Gavin believed that the spirit of Carlotta Valdes, her great-great-mother, possessed her, who died a long time ago.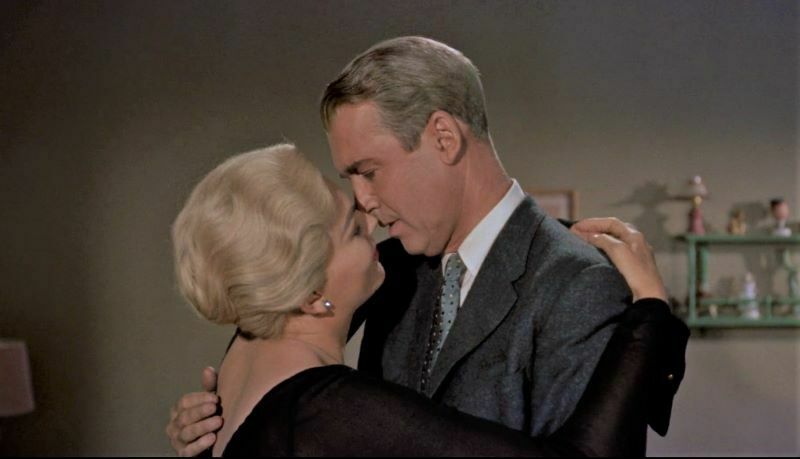 Little did John know that he was victimised by Gavin in order to kill his own wife who looked, talked, and dressed exactly like Madeleine, whom he hired to act as his wife, and Gavin introduced her as his wife.
Gavin told him that she goes to the Golden Gate Park at San Francisco Bay and keeps staring at the water. He told John to come that night at the restaurant, Earnie's, during supper to inspect her from afar.
The next day, John followed her driving from her apartment to a flower shop to Mission Dolores Church. She had a silent moment in the cemetery by the gravesite of Carlotta Valdes, who died in 1857. Then she headed for the Palace of the Legion of honour, the art gallery.
Only one is a wanderer; two together are always going somewhere.

Vertigo 1958 quote
There, she sat below the portrait of Carlotta Valdes hanging on the wall. John notices that Madeleine has a bunch of flowers holding similar to the picture, and she did her hair exactly like the woman in the portrait. 
In the evening he followed her to the Golden Gate Park. After scattering the petals of flowers on the water, she threw herself in the San Francisco Bay, which was in fact part of the act to show John her suicidal intent.
She was aware that she was being followed, and knew that he would save her, although she knew how to swim, as well. Without wasting a moment John jumped into the Bay to rescue her and brought her to his residence. 
John found that Carlotta Valdes committed suicide out of frustration, which was confirmed by Gavin that she, in fact, committed suicide at 26, and Madeleine is now at her age. Therefore, he must protect her from killing herself. Madeline said she cannot remember what happened the day before, or why she jumped in the Bay.
But she revealed to him a dream she kept dreaming. It's about a Spanish village with San Juan Bautista Mission Church with a tall bell tower. The next day John took her to the San Juan Bautista Mission Church. However, Madeleine said that she must go to the tower all alone, and ran towards the church.
Through the church corridor, John followed her climbing up the tower. But because of his acrophobia, he couldn't make it up to the top. However, he saw Madeleine jump off the tower to the roof of the church. She committed suicide from which he was meant to stop her, but failed to do so because of his vertigo caused by acrophobia.
The jury gave the verdict that even though John was able to save her life once, and failed to do so for the second time, it is still not his fault owing to his acrophobia. her husband, Gavin, let him go free of charge. But the guilt of not being able to save her kept haunting him.
The other day, he noticed a woman, Judy, with a similar resemblance to Madeleine in front of a Motel. He expressed his desire to know her more because she reminded him of his lost love, Madeleine. John offered her dinner with him. But before going with Judy thought of going away. She wrote a letter to confess she was Madeleine, who committed suicide. 
She wrote: You were the victim. I was the tool, and you were the victim of Gavin Elster's plan to murder his wife. He chose me to play the part because I looked like her. He dressed me up like her. It was quite safe because she lived in the country and rarely came to town. He chose you to be the witness to a suicide". That, deep in her mind she expected to meet him one day.
She changed her mind. She tore the letter off and went with him for dinner. The next day John bought her to the same grey suit Madeleine wore before committing suicide and made her hairdo exactly the way of Madeleine. Then got himself convinced that Judy is actually Madeleine, and he had been fooled and is determined to find out how that had happened in order to free himself from the guilt. 
The next day, instead of taking her to their appointed lunch at Earnie's, he took her to the San Juan Bautista Mission Church, to know how the incident had actually happened. Defying his spell of vertigo, he tried to take her up to the tower, against her resistance.
Halfway to the point of committing suicide, she admitted that Gavin and she hid in the dark with the dead body of Madeleine. Gavin knew his weakness of acrophobia, and he threw the dead body off the tower making it look like a suicide incident. Gavin paid Judy for acting as Madeleine. 
I was safe when you found me. There was nothing that you could prove. When I saw you again, I couldn't run away. I loved you so. I walked into danger, let you change me because I loved you and wanted you.
Judy professed: "The Carlotta story was part real, part invented, to make you testify that Madeleine wanted to kill herself. He knew of your illness. He knew you'd never get up the stairs to the tower. He planned it so well. He made no mistakes. I made the mistake. I fell in love. That wasn't part of the plan. I'm still in love with you, and I want you so to love me".
Conclusion: Vertigo 1958
As Judy revealed everything and ensured her love for him, and tried to remain embraced with John she saw a nun standing behind John. Immediately, Judy threw herself off the tower, committing suicide.
Why Judy committed suicide remains a mystery to me. I think it's because she did not want anyone to know about her love for John and did not want anyone to know that John found out the truth that he was a victim of a crime he never intended.
An acrophobic detective wandered about Madeleine and fell in love with someone to wander with. Asked her if he could wander with her, she replied: "Only one is a wanderer. When two are together they are always going somewhere.
Vertigo 1958 is undoubtedly one of the best films that one must watch and keep on the list. The good look of Kim Novak and her satisfying elegance and tuneful voice is capable of bringing one back to the films repeatedly, as in my case.
---